Posted on July 22, 2019
Choosing A Contract Warehouse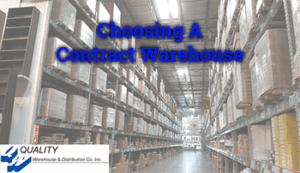 The Port Authority of New York and New Jersey is an agency that has been created by these two states. They operate sites all around NYC and New Jersey.
In New Jersey:
Port Newark
The Elizabeth – Port Authority Marine Terminal
Port Jersey
and in New York:
Howland Hook Marine Terminal
The Red Hook Container Terminal
The Brooklyn-Port Authority Marine Terminal
These areas combined make up one of the busiest container terminals on the East Coast.
If you are doing business within 25 miles of any of these terminals, you will want to choose a contract warehouse that has its hands on the storage, shipping and distribution of your products. There are several factors to consider when looking to contract with a warehouse.
Why a 25-mile limit?
If a contract warehouse is located within this radius, a single driver can handle import and export container delivery for you in a single day. This area of NY/NJ is one of the most congested. Roads within the terminals and surrounding them are some of the busiest in the nation. If truck drivers need to go further than 25 miles, your truck's movements may be limited. You will want your goods shipped out of the Port as quickly as possible to avoid storage fees.
Use a Warehouse With Its Own Trucks
Picking up your bulk containers from the Port and delivering them to our facility or your customers is easier when the contract warehouse you choose has its own fleet of trucks. For an added benefit, you will want to contract with a warehouse that sits next to rail lines for easier access to major highways and airports.
Choose a Warehouse to Meet All Your Needs
Your business relies on the good intentions of places such as the Port Authority and a warehouse facility to move your product as quickly as possible.
Make sure to ask:
How long has that warehouse been in business?
Are they reliable or have you or another business had problems there recently?
What kind of customer service do they offer?
Do they have employees available before and after normal business hours?
It's important to know the answers to these questions before signing off with a warehousing facility.
Look to Longevity of Warehouse Employees
It may not seem important, but a facility with a revolving door of employees is a red flag when you're looking for help for your business. Employees who work for a warehouse over time understand their products, know what needs to be done without cutting corners, and are likely to handle and ship your products without delays or damages.
Look at what type of team is involved in the daily operation of that warehouse. Quality Warehouse & Distribution has over 40 years in the business and many of our employees have been with us for years. They know the business and they know how to make it work for you.
How Does a Warehouse Stack Up Against Competitors
There are plenty of warehouses out there. You should know what goes into your fair price fees. If you expect excellent customer service, prompt pick up from the Port facilities, warehouse storage, deliveries to customers, and insurance that protects not just yourself but your clients, a fair rate will apply. It may not always be the lowest rate, but you will get the quality and peace of mind you deserve.
Quality Warehouse & Distribution has customized services to our warehouses and a commitment to excellence. Our Edison NJ facilities specialize in standard pier containers, overweight pier containers, rail transportation services, and rail siding for stripping and stuffing rail boxcars. We handle all sizes and freight transportation. When looking for a contract warehouse, look no further than us.