Posted on January 26, 2021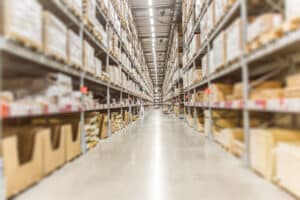 Are you interested in improving your e-commerce as a whole? Are you looking to cut costs on warehousing? But also improve your ability to deliver your product?
Well, if that's the case, you might find great use in delegated warehousing. In essence, to understand what is third party warehousing, we need to look into third party logistics as a whole.
So in this article, we will cover everything you need to know about both of these topics. Making your life that much simpler when it comes to choosing the sure-proof method for improving your e-commerce business overall. If you're ready to jumpstart your inventory management and sales process, keep reading.
What Is Third Party Warehousing?
In essence, third-party warehousing is only a sub-branch of third-party logistics. It encompasses inventory management, fulfillment, warehousing. Also known as 3PL, it allows e-commerce merchants to achieve more with structural tools for automation. Specifically, of their retail order fulfillment.
It's not certain where the term originates from. But companies have been leaning towards outsourcing their logistics since the early 1970s.  With the rapid growth of e-commerce in recent years, the term has become ubiquitous and third-party logistics have started to advance their services greatly. The supply chain integration of transportation and warehousing services has become what we now know as third-party logistics.
Now that you have a general understanding of what is third party warehousing. Let's delve deeper into the benefits of 3PL as a whole.
What Are The Benefits Of 3PL?
By investing in a 3PL partnership, you remove the need to rent or buy warehouse space, labor, logistics operation. As well as the necessary technology for in-house fulfillment.
As your business expands, fulfilling orders becomes even more expensive. These costs include forklifts and other tech, warehouse upgrades, and space. As well as recruiting and labor, workers comp, warehouse management software, liability insurance.
So the only true and important benefit of 3PL is the ability to save time and money. Everything beyond that is either additionally beneficial or simply unnecessary. However, 3PL companies know what is needed. So they will always have add-ons that make your business life easier.
Let's take a look at what you can expect from third-party logistics.
Inventory Management
Managing inventory is not simply warehousing your products. It runs deeper than that. So what is 3PL warehousing? It's something that should allow you to easily sync your online store with true inventory. But also actively reorder inventory when stock is low and view real-time inventory at each fulfillment center.
Once your 3PW stores and receives your inventory, you can check on hand the quantity and units sold each day for each item. This provides exceptional visibility into what you can ship to your customers at any point in time.
Depending on the technology, you might also be able to make use of stock counts in real-time sync with your website. So that your clients know immediately if something is out of stock.
Improved Shipping
Most popular retailers offer 2-day shipping, as well as free shipping. Customers expected affordable and fast shipping at their own time.
3PL warehouse locations can either break or make your success in the eyes of the customer. This is done by storing inventory closer to shipping destinations. Working with the right company will allow you to offer 2-day shipping at an affordable price to the majority of your customers.
3PL service providers have tender relationships with negotiated discounted rates for shipping carriers. But, the greatest cost savings for 2-day shipment options come from inventory distribution across several fulfillment regions.
So to maximize your market potential for delivery, you need to have the full view of your sales process and regional KPI.
Inventory Distribution
When working with a third-party service provider that has many warehouse locations, you can choose to split your inventory to ship the orders out from the warehouse to the closest customers. This is called inventory distribution.
With the right tech, 3PL helps automate fulfillment via AI algorithms that route the orders to the most optimal centers for delivery. If your customers are distributed all across the country, you will want to make use of this.
Inventory distribution is not cost-effective for all companies. Especially if your shipment volume is on the lower side. As your business does grow, having a network of ready-to-ship centers will allow you to optimize your delivery efficiency. Splitting inventory can also help you in scenarios where orders cannot leave a certain fulfillment center (think bad weather conditions). Inventory distribution helps with inventory management directly.
When you store items in several regional areas, you will have backup stock if one location runs outs. You also save lots of time by outsourcing fulfillment. Instead of packing boxes, building your delivery infrastructure, and standing in line at FedEx, making use of 3PL allows you to focus on more important things, such as marketing or product development.
Industry Expertise
As an e-commerce company, you probably don't have the time to fully immerse yourself in logistics and shipping. That's why you need 3PL. These companies are staffed by logistics professionals who are more than willing to keep you up-to-date with the latest complexities and trends.
3PL also comes with partner networks and technical resources. Including custom packaging providers, marketing agencies, and much more. This allows them to continually improve and optimize their supply chain to help you reach e-commerce success.
Reach Expansion
If you're only locked to a certain region, your business potential is limited. Working with a 3PL provider can help you expand. These companies have large networks of fulfillment centers. Which your in-house infrastructure simply lacks. Having fulfillment centers in major cities can help your transit time for orders. But also helps reduce the cost of shipping.
Shipping orders from a single spot result in costly postage for items. This occurs because of the need to traverse several shipping zones.
3PL Warehousing For You
Now that you know what is third party warehousing, you finally understand the true value of having your tedious business tasks outsourced. If you're looking for a new way to grow your business substantially, this might just be it.
If you're interested in working with a reputable warehousing company, get in touch with us and we will happily accommodate your needs.