Ways a 3PL Fulfillment Warehouse Can Lower Operation Costs
Posted on October 18, 2021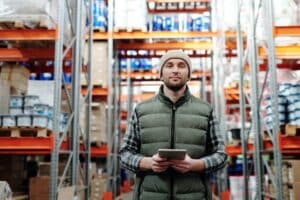 A 3PL fulfillment warehouse can take care of the heavy lifting for you, and they can reduce your costs immensely. So, how do they do it? First, let's find out the different ways a 3PL fulfillment warehouse can lower operation costs. 
Your supply chain requires many different services. From warehousing, trucking, and reloading, the list is endless. 
Logistics costs can rack up quickly, and that's why many shippers now turn to third-party logistics companies to reduce their costs and the pressure on their services. 
In fact, as many as 67% of shippers say that using 3PL providers has contributed to an overall reduction in their expenses. So what's not to love? 
What is a 3PL Fulfillment Warehouse? 
3PL fulfillment processes can vary depending on your chosen provider and the services you've selected. Generally, the process looks something like this: 
The 3PL will receive your inventory at its designated warehouse. They will then organize each SKU. 

When a customer places an order on your site, it will either be manually forwarded to the 3PL or automatically sent over (if your 3PL's software can integrate with your store)

A warehouse team member from the 3PL will then receive a packing list to collect the items that have been ordered from your store. 

The items from the order are then packed in boxes with a receipt and the order details. 

The 3PL will then print off the shipping labels or use one from its own shipping carrier partners.

The shipping carrier will then collect the package from your 3PL's distribution center and deliver it to your customer.
Lastly, the tracking information for the order will then be uploaded to the 3PL system and integrated with your supplier's order management software. 
How Can 3PL Services Lower Your Operation Costs? 
So, how does a 3PL fulfillment warehouse lower operation costs? What are the benefits of a 3PL fulfillment warehouse?
Well, they can save you money in several ways. The most common are: 
"Share Warehousing" 
With the "shared warehousing" model, you simply pay for the warehouse space or 3PL services you use. Thus, your costs will be optimal if you work with small volumes and require minimal storage space.
If your sales increase, during peak season, for example, you can expect your costs to scale up too. However, this will only ever follow your needs, making it a fair and cost-effective model for your supply chain. 
Eliminate WMS Costs
In today's world, a standard warehouse will require you to use some form of a warehouse management system. These systems are tasked with managing inventory levels, shipments, picking and packing operations, and more.
While it's true that these systems can streamline your operations processes, they often come with a steep price tag.
For example, a reputable WMS software can set you back as much as $5,000 per month for large warehousing operations. If you don't want to burn a five-figure hole in your pocket, you can partner with a 3PL instead. 
In addition, most 3PL's have their own WMS software included in their services, which saves you shelling out the excessive costs associated with most independent WMS software.
Cross Docking Services
With cross-docking services, goods are delivered to a 3PL loading dock to be stored temporarily, or they'll be transferred directly to another truck.
Cross-docking eliminates the need for long-term warehouse storage, which can save you a lot of money. This also has no impact on your distribution times, so your business can continue as usual without any hiccups. 
Avoid Any "Amateur Hiccups"
Your business is your livelihood, and it's simply too important to approach without the expertise and professional experience a 3PL can provide. In addition, marketplaces are now more competitive than ever.
So you need to make sure your logistics process runs as smoothly as possible, from start to finish.
The most reputable 3PL services will work with you to ensure your customers are satisfied and each aspect of your industry is running optimally. 
3PL Warehouses Can Limit Overheads
3PLs often have a stronger hold over their storage premises and higher-order values from partners, which gives them the grounds to keep their warehouse space.
Ultimately, this allows your capital to be invested in other return-generating endeavors. 
Save Money (and Time) on Labor
The pandemic changed the business landscape forever. Warehouses and fulfillment centers were not immune to this change. Automated solutions like robotic machinery were used to pick and pack orders in warehouses.
This machinery can work 24/7, offering significant benefits to both your business and your customers. However, investing in this technology yourself isn't cheap.
Thankfully, many 3PL providers can give you access to warehouse automation technology without having to invest the cash and develop your own. 
Ultimately, the cost-benefits of 3PL warehousing can be attributed to several factors. These are: 
Flexibility

Expertise

Increased productivity

Optimized procurement of storage facilities

Access to forklifts/transport systems

Recruitment of personnel/hourly staff is streamlined (or eliminated) if you opt for automated warehouse technology 

No hiring or training costs
Building your business and warehouse operations from the ground up requires some significant investments.
Working with a 3PL fulfillment warehouse can reduce these costs, maintain your financial freedom and optimize your supply processes simultaneously. It's a win-win situation for any business. 
Start Your 3PL Venture Today
Want to find out more about 3PL fulfillment warehouses? Think your business or supply chain could benefit from expert advice and assistance? Then, why not contact us for more info? We're always more than happy to help!