Types Of Logistic Services – Which Is The Best For You?
Posted on May 28, 2021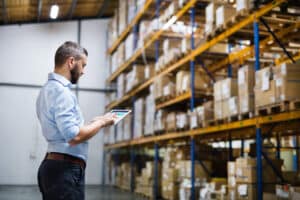 Is your business in need of logistics service to cut down on its shipping costs? Are you looking for the best way to ensure your products get to your customers as quickly as possible? If so, then you need to learn about the different types of logistics services out there.
Knowing the different logistics transportation services will help you determine which one is best for your needs. Your company can use the logistics service to ensure timely delivery to customers and partners alike.
See below for an in-depth guide on the different types of logistics services and how they can benefit your company.
1. Third-Party Logistics Providers
Think of these services as the swiss army knives of the logistics industry. They can offer you a plethora of services to ensure your logistics and warehousing needs are being met.
Most companies in New Jersey struggle to find warehousing space. They need a central hub where they can store all their products and materials until the demand calls for them.
Here at Quality Warehouse, we offer third-party logistics with warehousing features that include:
24-foot ceilings
Full sprinkler system for emergencies
32 loading docks
Immense warehousing space (over 300,000 square feet)
Monitored security systems (as protection from burglary and fire)
We are a contract carrier service provider between any points you need in the lower 48 states. That includes warehousing space (as mentioned above), distribution services, and truckload services.
We offer many different freight transportation services to ensure that you receive a high return on your investment. These services include:
Local transportation in New Jersey
Short-haul freight
Truckload freight
Less than truckload freight
Pier container pickup and delivery
In other words, we offer everything you need and we do so while accommodating your company budget. Be sure to reach out to us to learn more about how our third-party-logistics can fit seamlessly into your business operations.
2. First-Party Logistics
Perhaps you're a manufacturing plant that needs to get products to the companies that you create them for. Maybe you need to get your products from the manufacturer to the distribution center.
If so, then first-party logistics is always an option. In first-party logistics, the manufacturer is the one that will cover the need for shipping and warehousing. The manufacturer will have their own fleet of trucks that they can use to send the truck to the distribution center.
While the concept is simple, there are a lot of flaws with this model. Such flaws include:
Too much of your business operations depends on the manufacturer
Manufacturers tend to be lackadaisical on logistics planning, which can throw off your schedule
Transportation costs might be unnecessarily high
The model is inflexible
It puts a lot of strain on your relationship with your manufacturer, and vice versa
Manufacturers aren't always up-to-date on government and environmental regulations
Third-party logistics are far more practical. They put your products and materials in the hands of logistics experts. This allows everyone to do what they do best. The manufacturers focus on production, the third-party logistics company focuses on warehousing and shipping, and you focus on selling.
3. Fourth-Party Logistics
This type of logistics service involves outsourcing your needs to a logistics service that can oversee the distribution of your products. But here's the catch: in fourth-party logistics, the company you're outsourcing to doesn't have their own physical fleet to accommodate your shipping needs.
They take more of a consulting and monitoring role in the process while hiring other companies to meet the physical needs of your logistics chain.
As you might imagine, this process can get messy rather quickly. There are a lot of moving parts, which can mean a higher risk for something to go wrong. The need for constant communication is higher, and the services don't always follow through.
It's great for those of you that don't know the first thing about logistics. However, if that's the case, wouldn't you want to hire a third-party provider who has the experience, know-how, and physical assets you need in your distribution?
4. Fifth-Party Logistics
The tables turn a bit for fifth-party logistics. In this model, the provider you've outsourced to will use several different 3PLs (third-party logistics providers) to find the best rates for all of them.
Many companies choose to actively avoid this model. They feel uncomfortable having so many different 3PL providers involved in the distribution of their products.
It's better to build a business relationship with one third-party logistics provider. That way, you'll know exactly who's managing your warehousing and freight.
5. Second-Party Logistics
With second-party logistics, the provider will only fulfill your need for transportation. They'll make sure your products and materials are transported from the manufacturer to your distribution center, then from the distribution center to your preferred shipping method.
But what if you don't have a distribution center? In that case, you need both warehousing and transportation, which would make a third-party logistics service a better option.
If trucking and shipping is all your distribution plan is currently missing, then a second-party logistics provider might be the right fit! But here's the question to ask yourself: do you currently have enough warehousing space to accommodate your company's growth in the future?
Consider These Types of Logistics Services for Your Company
Now that you have seen an in-depth review of the different types of logistics services, be sure to find the right fit for your needs. Be sure to read this article for more information on what third-party warehousing is and why it's so helpful to your business model.
For more inquiries, please feel free to reach out via our contact us page and we will be happy to assist you further!