Posted on September 12, 2022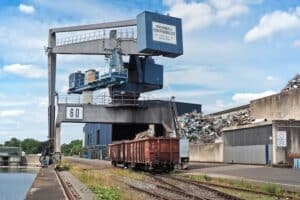 Did you know that the supply chain has been pulling some of the worst numbers since 1972? Shipping has become a hot topic as many companies try and determine which method of delivery provides the best reliability without sacrificing cost.
The shipping by rail vs. truck debate is ongoing, with many companies having leaned on truck shipments in recent years. Yet, worker shortages and uncontrolled events like weather or poor infrastructure can make it challenging for you to receive or ship your products on time.
Luckily, we have a must-read article you don't want to miss out on. In our guide, we will go over the pros and cons of shipping by train vs. truck. Keep reading on until the end and find out how you can outsource your shipping starting today.
Shipping by Rail Pros
Rail shipping is also known as train shipping and entails loading train carts with goods or supplies. There are several benefits of rail shipping, such as:
More options for temperature control
Time-sensitive
Fewer accidents or delays
Hold more weight
Uses less fuel
Trains are immune to traffic and road conditions, making them a more reliable choice for time-sensitive products. Shipments are often more dependable and quicker. They can also hold more materials than other methods of delivery.
If you need to transport large, heavy, or high quantities, this makes them a great option. Many rail companies are also using renewable energy. While rail is one of the most energy-efficient transport options, it only encompasses 7% of freight transport.
Shipping by Rail Cons
One of the most obvious pitfalls of rail shipping is that it doesn't deliver right to consumers or other businesses. You will still need a truck or other means of transport to deliver to your final destination. Over short distances, using railways may not be the most efficient means of transport either. Lastly, while it can be highly efficient for businesses looking to ship vast or heavy products or goods, the rail shipping process can be expensive for smaller shipments.
Shipping by Truck Pros
How truck shipping works is that you load your goods, products, or materials in the trailer of a truck to have shipped over land. Some of the benefits of truck shipping are:
Customized routes
Direct delivery
Flexible shipments
Tracked goods
Truck shipping is a newer form of transport, with over 3.5 million truck drivers employed in the United States. Nowadays, many roads accommodate large semis or trailers, making it ideal for small shipments or direct shipments. Trucks can also travel to more places, allowing for distribution beyond major hubs and also targeting rural regions. Trucks also allow for more customization, including routes, delivery times, and additional trailers without breaking the bank.
Shipping by Truck Cons
The downside of truck shipments is that they are often not as reliable. Construction, weather, or accidents could delay shipments. Additionally, they aren't as secure and are more prone to break-ins. They are also worse for the environment and are limited in load capacity.
In the United States, diesel trucks are the main source of emissions. Trucks account for approximately 28% of climate pollution.
Shipping by Rail vs. Truck
The truck transport cost benefits are one of the primary reasons companies use it for transporting their goods. However, rail can be more cost-friendly since it has a more reliable delivery schedule and can hold more goods. Switching to rail transport for long-distance deliveries also improves workers' safety. Schedules are set, allowing to estimate more exact delivery dates.
While you sacrifice some of the flexibility with truck transport, there are higher risks for potential delays due to uncontrolled events. There are also fewer cargo and weight restrictions with rail shipments. You bypass state regulations that often limit truck drivers and their load capacities. Air and sea transport are two other modes of delivery, but they have been impacted by global shortages and delays since the COVID-19 pandemic.
Truck shipments have also fallen victim to some of the struggles seen during the COVID-19 pandemic. Last year, the American Trucking Associations stated that the United States was short nearly 80,000 drivers.
Is Outsourcing Rail Shipping Worth It?
Now that you know more about the pros and cons of each, is outsourcing your shipments worth the cost? In short – yes! Supply chain shortages have forced many companies to look at how they can more efficiently manage their shipments. Outsourcing transport to third-party companies helps you manage warehousing and rail shipment. In return, you will notice improvements regarding:
Productivity
Time dedicated to your business
Scalability
Customer service
Liability
Cost
Outsourcing through Quality Warehouse also helps your business gain a technological edge over other competitors. We use smart transport management systems to ensure you receive accurate inventory reports. It improves operational efficiencies, helping you focus on scaling your business and letting the experts handle analytics, shipments, and storage. Lastly, outsourcing is more affordable than you may think. Using public warehouses allows you to split costs with other customers having goods shipped to similar regions.
Finding the Best Options for Shipping
Have you wondered whether you should start shipping by rail vs. truck? While truck shipments are a popular option, rail is the most reliable and affordable solution.
At Quality Warehouse, we specialize in rail traffic and transportation and have worked with several companies such as yours. We take the burden off transport, ensuring efficient delivery through smart technology.
Are you interested in getting started? Contact us today and receive a quote for your shipments today!