The Importance of Warehousing For Your Business
Posted on February 26, 2020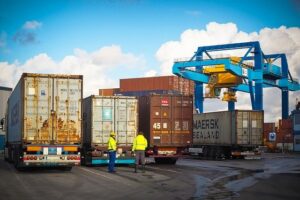 How do you save money on your business? The key to running a 'tight ship' is efficiency. Without it, you'll find yourself in unfamiliar waters quickly and your business will be sinking. This is why it is critical to consider the importance of warehousing for your business.
If your company relies on shipments getting to their destination quickly, consider what a warehouse will do for your bottom line. When you maximize efficiency, that's good news for your profit margins. And if you're looking for a great way to promote your business, a rail-siding warehouse can help.
Consider these benefits when choosing a warehouse that fits your business:
Deliveries Are on Time and Safe
You've built your business on its reliability. Using warehousing for your business can help with this, and it can save you time and money. When your shipments are housed in our warehouse, they are protected. They will also be moved out promptly to coincides with your timetable, not ours. We load and unload shipments in our state-of-the-art warehouse located in Edison, New Jersey.
Let Us Put Our Logistics to Work For You
As a third-party logistics provider, Quality Warehouse offers you public warehousing, freight transportation, and rail shipping and receiving. We have the solutions to your shipping problems. Our distribution process streamlines the entire process, which amounts to greater savings for you. The best part is you maintain greater control and flexibility within your ever-changing business environment.
Look at What Our Warehouse Offers
At Quality Warehouse, we have over 300,000 square feet of warehouse space, with 24-foot ceilings. We offer 32 loading docks and a full sprinkler system. Our entire facility is electronically monitored against fire and burglary, so you know your shipments are in a good place with us. We have over 40 years of combined expertise in public warehousing, freight transportation, rail shipping and receiving, container delivery and import/export transport. When considering the importance of warehousing for your business, think Quality Warehouse.
Freight
You will find warehouses all across the US. Consider warehouses that use rail siding in addition to truck transportation. Trucks are a great alternative when delivering for short distances, but when your shipments need to go far, your best bet is by rail. With railways, there is a potential for limited stops, which means your products get where they are going in a shorter amount of time.
Warehouse Operations
The key to success with any warehouse operations is in how it is organized. The importance of warehousing ensures that your goods move through in an efficient manner and that your products stay together, which makes orders easier to fulfill.
Shipments are sent in bulk and all at one time, so there is no repeating the process over and over. For large quantities and frequent shipments, your third-party logistics provider will make everyone's life easier.
Always Consider Location
The location of a warehouse is an obvious factor, yet people often overlook this. If your company ships overseas or to distant areas of the country, you will want a location in a coastal area, such as New Jersey, where access to major rail routes, highways, and airports are almost in our backyard. For smaller businesses, your company's reputation is on the line every day. Please consider the importance of warehousing when choosing a warehouse for you.
The importance of warehousing for your business cannot be underestimated. There are many things to consider, so take your time, but be sure to partner with the best. At Quality Warehouse, we have the answers to all your questions.