What Is Third Party Logistics?
Posted on April 04, 2022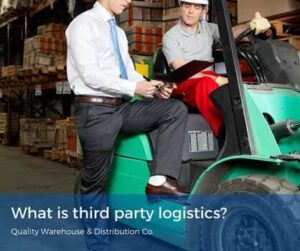 For any company for which production or manufacturing is key, third party logistics services are often a smart option for an effective business model. In order to consider it as an option though, of course, understanding of what third party logistics looks like and how it works is essential.
Third party logistics (often abbreviated 3PL or TPL) refers to outsourced logistics services.  In essence, any business that deals with physical products could work with a 3PL provider to manage their shipping, delivery, or storage needs – and more.
What Services Are Included In Third Party Logistics?
When you're wondering what is third party logistics services that you can get, here are the most popular ones:
Warehousing: Easily handle your imported, exported, or manufactured goods at a warehouse that can deal with large inventory quantities. You don't have to go through the hassle of hiring extra personnel or look for warehouses when you can outsource the entire process.
Inventory Management: This can help identify how much and when inventory should be ordered. It can help keep track of existing inventory and prepare for incoming inventory.
Shipping and receiving: Fulfill the logistics of shipping and completing orders without worrying about any obstacles. Simultaneously manage order acceptance, delivering and maintenance without the added cost.
Reverse logistics (returns): Tracking returns and ensuring they are being actively tracked can take time and experienced staffing. Ensure your customers are satisfied and there's not a hitch as far as returns are concerned.
Kitting and customization: Find tailored and customization solutions for meeting advanced customer requirements, whether it's kitting multiple items through a single SKU or pre-configuration.
Picking and Packing: Ensure that your products are handled adeptly and securely through trained experts who know what they are doing. Get products picked up from the manufacturer's and dropped at your customers' doorsteps.
Imports and exports: Manage domestic and international requests no matter how small, or big your business might be
Logistics refers to any sort of management of movement of resources – basically any service that involves storage or shipping. So, a 3PL provider could provide anything from storage to shipping to a full-service system of supply chain management. Different providers offer different types of service, and some companies even work with multiple 3PL providers for the most effective service.
The main two categories of providers are Asset-Based and Non-Asset Based providers. Asset-Based providers own or have strong relationships with the equipment you need – like warehouses that own or have strong relationships with trucking and rail companies. Non-Asset Based companies focus more on organization and management, without their own storage and shipping equipment. Examples of non-asset based services include transportation management services and software, and shipping organization. Cerasis provides a detailed list of the different types of 3PL providers.
In practice, you'll want to choose a 3PL provider that works well with you and offers the space, storage options, and labor your business requires. You'll work together with your provider to create a system that will take care of your needs so you can focus on other pressing parts of your business. Whatever your storage, shipping, or supply chain needs, 3PL companies provide professional service you can count on to handle your logistics for you.
3PL Order Fulfillment Route
When working with a 3PL company, you should know the entire process from start to finish, so you know what to expect. It can also help you plan better in terms of finances and ensure your business increases scalability in the right way.
Receiving: This can be done professionally when you have also entrusted the 3PL service with inventory management. The receiving component refers to inventory coming to the warehouse and being stored until an order has been placed. You can also get an idea about product stock and more through a centralized program.
Warehousing: Once your products have been received, they remain stored in a warehouse until they are ready to be shipped to their destination. Products are given their own SKUs to be tracked through any fulfillment center. Various warehouses can have different capacities, and depending on your requirements, you can scale it up or down.
Picking: The fulfillment process can begin when an order has been placed. Depending on the system in place, these orders can be manually entered into a centralized program or automatically updated. However, the process can be streamlined and easily tracked using a sophisticated system. Pickers will receive details about where to pick up the order and quantities that need to be picked up.
Packing: When all products have been received and picked up, it is time to pack them properly. Depending on your business requirements and preferences, you might require specific packaging. Different packaging materials include:
Plain boxes
Packing tape
Bubble wrap or paper insulation
Polybags
If you have specific requirements, you need to ensure that the 3PL provider is aware of them to be prepared for adequately.
Shipping: From printing shipping labels to get them to carrier partners, 3PL providers can ensure all. If you have a specific carrier partner in mind, you can also request your 3PL provider to go with them only.
Returns: If a customer has decided to return your product, it can be shipped directly back to your 3PL provider, who will take care of the logistics. Customers and your staff can track the order returns without any hassles too.
Why Use A 3PL Provider?
Various types and sizes of companies choose to use 3PL services for many different reasons. Smaller and newer businesses may not have the budget or skill set to manage the movement of their products. Well-established companies may find it easier or less expensive to export their logistics rather than managing it in-house. Businesses often don't have the space or resources in their own facilities for warehousing and shipping, and many companies simply prefer to keep their attention on other business functions – like manufacturing, production, and customer service – by outsourcing logistics.
Because third party logistics providers will work with their clients, companies don't have to relinquish control by hiring a 3PL provider – just the stress, time, and expenses of managing it themselves. A good provider will work together with its clients to create and maintain a system of shipping, storage, and/or order fulfillment that makes both parties happy, and will provide service you can trust.
Third party logistics companies specialize in movement of resources, which makes outsourcing an attractive solution for logistics needs. While your business may have several functions and products 3PL providers are fully focused on providing support for logistics – so they're (hopefully) bound to know the industry well. Hiring experts can make running a business much easier and less stressful than managing everything in-house, and an established provider will communicate well with you, know how to fulfill your needs, and offer expert opinions.