Get More Efficient Shipping From a Rail Siding Warehouse
Posted on October 23, 2020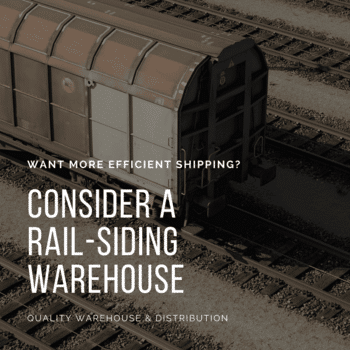 Efficient is defined as maximum productivity with minimum effort and expense. You're trying to run your business in the most efficient way possible. That efficiency includes handling your transportation needs. After all, when you're operating a business, you have to make sure all of your pieces are in place and that everything can run smoothly.
That being said, getting your hands on the most efficient shipping can be an arduous task. Where do you go to find the third-party logistics provider that you need for your transportation? If you don't know where to look, you could be searching for a long time before you find something worth bargaining your time and money on.
Luckily, that doesn't have to be the case – not when you can try rail siding warehousing instead! This article will show you how rail siding warehousing offers more efficient shipping for your company, and why it's worth your time investing in.
How the Rail Siding Warehouse Offers the Most Efficient Shipping
Here's the thing: in order to be efficient in whatever you do with your business, you have to combine maximum productivity with minimal effort. With your current shipping methods, you're doing the opposite of efficiency. This is where rail siding warehousing comes into play.
Rail Siding Warehouses Are Central
One of the key benefits of rail siding warehouses is that they are located in central areas. As the rail system tends to run through central locations when hauling their freight, having the warehouse near the tracks makes it much easier to ship off the materials and will keep prices down.
It Makes Shipping Faster
Most people wouldn't think it, but rail shipping is actually fast. With rail lines that run directly from point A to B instead of zig-zagging through stoplights like other modes of shipping, your items get to where they need to go – and fast. Even more so, rail shipping allows you to ship more of goods in bulk, usually 3 to 4 times as much as a standard shipping truck on average.
Cost Of Transportation Is Low
When you ship by standard truck, you need gas. And last we checked, gas is expensive – going higher by the day. When you ship through rail siding, this doesn't need to be the case anymore. Furthermore, the fuel used in freight is much more economical than gas and allows you to cover longer distances, so you can save tons of cash.
Location And Size Are Ideal
A rail-siding warehouse is built on site and to customer specifications. This means that deliveries and shipments come and go right to your doorstep, and there's always enough room for products to be kept neatly organized. It also means workers can unload deliveries quicker and with ease because the warehouse doesn't need to be reorganized every time a new shipment comes in.
Larger Deliveries Save Money
A delivery truck has a shipment capacity of approximately 26 tons. In comparison, a rail car has the capacity of 100 tons. This 75% difference can't be ignored—especially when fuel, driver wages, and vehicle maintenance are taken into account. Business owners who use a rail-siding warehouse save a great deal of money.
Deliveries Are Punctual And Safe
Punctual deliveries and shipments save time and money and ensure product safety. The rail system's simple logistics avoid stops at multiple shipping facilities and the unloading and reloading of products. The rail system also operates in all weather conditions, avoiding road closures and delays. Business owners who utilize the advantages of the safe, reliable rail system rest easy knowing their deliveries and shipments will always be on time and their products will always be kept safe.
Improves Worker Productivity
The rail system doesn't take breaks or special requests. Workers will know the rail system's schedule and can gear their work day toward it to maximize the amount of time they spend doing meaningful work. An advantage for business owners is that because shipments are never delayed or late, they don't have to worry about their workers sitting around doing nothing while waiting for a held-up delivery. Furthermore, business owners who take advantage of the rail system don't have to worry about paying their workers overtime in the event that they have to stay after hours waiting for or unloading a late delivery.
Eliminates Extreme Weather Delays
Every region of the United States has extreme weather conditions. Whether it be rain, wind, or snow-related, business owners have to deal with extreme weather at some point every year. The two factors associated with extreme weather that cost business owners time and money are delays due to road closures and traffic. Every second a delivery is late costs business owners money. If you're a business owner in an area where extreme weather is common, the money loss can add up quickly. The rail system operates in all weather conditions and at all times of the year.
Future Savings
Most business owners anticipate business growth. But the idea of planning and budgeting for it oftentimes gets neglected. One way a rail-siding warehouse can help you save money as your business grows is by eliminating the need to relocate, renovate, or rebuild your warehouse. Because business growth is taken into account before building your warehouse, it will be large enough. And as previously alluded to, rail cars can easily take on an increased amount of product.
Making The Switch
Now that you know rail siding warehouse services offer the most efficient shipping method for your company, you need to know where to find a company that can offer you the services your business needs for a price that works for your budget. We're the right people to help you.
At Quality Warehouse and Distribution Co., we specialize in all types of warehousing and shipping needs. We offer a wide range of services, including rail siding, rail traffic & transportation, general importing and exporting services, and so much more.
Ready to get started? Browse through our site to find out more about what we do, or reach out to us for any questions you might have. We're more than ready to serve your needs!