Third Party Shipping – Is It Worth It?
Posted on October 25, 2019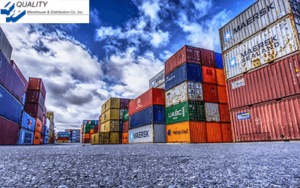 For any company whose lifeblood is production or manufacturing, you will want a third party shipping service as part of your business model. In today's competitive world, it is a vital component. If your business has grown to the point of needing more transportation options, you will want to know all about third party shipping.
Third Party Shipping
A third-party logistics provider, also known as 3PL, refers to outsourced logistics services. At its most basic, 3PLs offer door to door logistics services to support specific facets of shipping operations. You will find that 3PL providers are integrated into a company's transportation and warehousing strategies. Any business that deals with physical products needs some way for those products to reach customers. Third-party logistics help you manage all your shipping needs.
What Is Included In Third-Party Logistics?
Logistics has to do with shipping or storage. If your company has grown so large that it can't handle these aspects, then a third-party logistics company can implement a way to move your goods. What this means is that a 3PL provider could provide everything from storage to shipping to a supply chain management system.
You will want a 3PL provider who works well with your business. With our help, we will devise a system that works for you – for all of your storage needs, space, and labor that your business requires. Whatever your storage, shipping or supply chain needs, a good 3PL company will provide the professional service you need to keep your business humming along.
Advantages Of Working With A 3PL For Third Party Shipping
Shipping wouldn't be what it is in today's modern world without 3PL services. The many advantages include:
Increase expertise and knowledge. Supply chain logistics is a complicated process requiring a thorough understanding of its components. This is why 3PL organizations are experts in all facets of third-party logistics. In addition, you'll see how 3PLs can offer insight into your shipping methods now and how to improve them. Especially if you ship internationally, a 3PL company is going to reduce stress by handling all international shipping protocols.
Save time and money. When using a 3PL, it is possible to eliminate other aspects of shipping – such as warehouse space, technology, transportation and employees to carry out these operations. A third-party logistics company will alert your business to supply chain mistakes which can end up being costly. Inventory levels and holding costs are also optimized when using 3PLs.
Operations are scalable with more flexibility. When your company uses a 3PL, you are able to scale not just space, but labor and transportation directly tied to your current inventory. Certain seasons and industry fluctuations are a given. 3PLs are known to ease the transitions between these times of the year.
Why Work With A Third Party Shipping Company?
Simple answer: because they work for you. You do not relinquish control by hiring a 3PL provider. The only things that are reduced are the stress, time, and expense of doing it all yourself. A good third party shipping company will devise a system that works for your business to maintain and fulfill your shipping and storage needs.
Don't let your competitive edge fly out the window. A good 3PL, as with any expert, will make running your business much easier and less stressful. In today's competitive marketplace, there is no room for error. You will want to work with a company that has decades of experience and is committed to excellence. Contact us today to learn about our affordable rates for your business.