Rail Freight Transportation
Posted on July 25, 2019
Our Rail Freight Transportation Services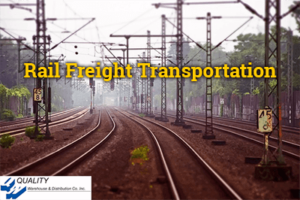 Freight, big and small, is on the move every day in this country. A good amount of it travels over the interstates and highways. While shipping by truck is a very popular way to go, for some freight, there is an even better way: rail freight transportation.
For those large shipments that would take more than one truck to transport, why not consider rail freight shipping? Rail transport can be a very efficient solution for your business.
Why Rail Freight Transportation Is Right For You
Rail siding warehouses offer you a great many benefits, including:
Saving you time and money. Businesses aim to make money. Your bottom line never looks good when you have more money going out than you take in. By converting your shipping from road to rail, you could save anywhere from 10 – 40 percent.  This has a lot to do with the fact that rail has fewer fuel costs compared to having your freight shipped over the busy highways. Especially when you have large freight loads that must be on time, you are not at the mercy of road delays, weather, or drivers who take a wrong turn.
Trains haul the big loads. The average train car is three-to-five times larger than truck beds. When you have freight of 1,000 lbs or greater, you'll find it's to your advantage to get everything shipped together. Think of it this way: one double-stacked train is equal to 280 trucks. When your shipments are large, you can't beat rail freight transportation.
Having safety and security for your shipments. As a world-class third-party logistics outsourcing provider for over 40 years, Quality Warehouse & Distribution offers you the best in safety for all of your shipments. Our warehouse is electronically monitored against fire and burglary, so you know you're in good hands with us.
Reliability with rail freight transportation. Railways don't share their tracks with the public as they have their own private transit schedules. When your truck shipment is sitting stuck in traffic due to road closures or accidents, our rail systems are rolling right along. There is also the weather to consider. Nothing holds up a truck delivery like road flooding, snow and closed interstates. These issues are minimized if you are using rail freight transportation.
Rail systems offer you more than what you get OTR. You know over-the-road capacity is always packed. Trucks make up the majority of carriers on major highways and shipments are often delayed. If you are looking for great capacity, consider rail transportation. Some limitations you find on the road don't exist on the rails.
A rail-siding warehouse with you in mind. Any good transportation system is only as good as the team that operates it. At Quality Warehouse & Distribution, we have the experienced team of experts who will move your freight quickly, safely and on time. Our facilities specialize in small, medium, large and extra-large freight and we offer you standard pier container and rail transportation services for a great price.
Our services are always customized for you and we are committed to excellence. If you are looking for warehouse storage, door-to-door shipping, or stripping/stuffing containers, we are the place to call.
Our rail freight transportation system services New York, New Jersey and New England areas, and we never leave without making sure your shipment is cost effective. We will consistently save you money. Together we'll find the solutions that best fit your needs.