Choosing Quality New Jersey Container Transport
Posted on May 02, 2019
New Jersey Container Transport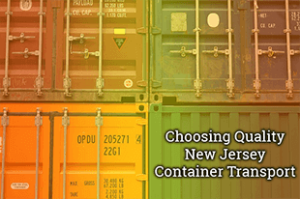 When you need quality container transport services in New Jersey and surrounding area, look no further than our company — we have Quality in our name for a reason!
Quality Warehouse has been operating out of New York and NJ piers for a long time, providing our expertise in import and export services to Philadelphia and other locations. We're a respected organization in the transportation industry with a convenient location and a commitment to customer service. We know that your time is valuable and we aim to make the most of it with our efficient, affordable services.
What We Offer
You may know us for our expansive warehouse, with over 250,000 square feet and 32 loading docks. But warehousing isn't all we do. At our Edison, NJ facilities you will find containers for your shipping needs, including standard pier containers and overweight pier containers. When you choose Quality Warehouse for freight transportation you have several options, including less than container, full container, and pier container pickup and delivery. We are a full-service business so if you are wondering if we can handle a certain aspect of container transport, simply ask!
We are members of the Uniform Intermodal Interchange Agreement. What that means for your business is the assurance of standardized rules for how your shipment moves, increasing operational efficiency. In all that we do, we work to streamline import and export so you don't have to worry about the little details.
What to Look for in an NJ Container Transport Company
Container shipping and delivery is widespread in the transportation industry, but that does not mean that all companies are equal. When you are choosing a New Jersey container transport business, consider these factors.
If you are shipping specialized cargo, be sure that your company of choice can handle the shipment. Our extensive options for containers, and our decades of experience, ensure that we will find the best way to manage whatever it is that you need to send or receive.
Pricing will always be a factor in choosing a transportation partner. Too expensive and it's out of your budget, but too cheap and you may end up with a company that is cutting corners. We pride ourselves on our affordable, cost-effective services, which we provide without sacrificing on the quality for which we are known. We work hard to find efficiencies for our clients; savings which are then passed on to their own customers.
Experience and reputation matter. When it comes to your precious, valuable cargo, you should try to find a company that knows what they are doing, and is well-vetted by past customers. We are well-known in NJ and the region, and we are happy to share the details of our education, training, and experience with prospective clients. You can also read case studies detailing how we have customized container transport for others, to get an idea of how we operate and what we have done in the past.
You should always feel comfortable with and confident in the company you choose to handle your warehousing, distribution, and container transport needs. That's why we are happy to sit down with interested potential clients to answer any questions or provide any information to showcase how our quality service and competitive rates are a good fit for your business.
For more information about Quality Warehouse and what we offer, please feel free to call us at 732-476-3151, or contact one of our team members via email, at info@qualitywarehouse.com. We're looking forward to working with you.