How Important is Railroad Siding to Your Shipping?
Posted on September 02, 2018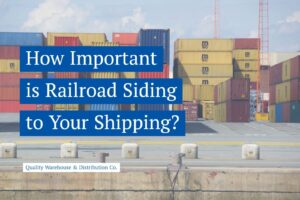 Efficient shipping is one of the key characteristics of successful businesses. The two most common and popular shipping options are trucks and railroad siding. As more and more companies gravitate toward railroad siding for their shipping needs, it's important for business owners to know exactly why.
Understanding rail siding
Many business owners don't know exactly what rail siding is, but it's most likely a concept you're familiar with. The railroad has a mainline. Trains travel through towns, states, and regions on the mainline. Rail siding is a low-speed track that branches from the mainline. While moving from point A to point B, trains frequently go down rail siding to drop off and pick up goods at rail-siding warehouses. Sometimes, trains will drop cars off at rail-siding warehouses to save time while workers unload them. The importance of rail siding in the shipping world should not be underestimated.
The importance of rail siding
Rail-siding shipping is an alternative to truck shipping. The railroad system is the oldest and most effective way to ship goods. Without the railroad system, most of the important goods people need would not be able to be transported. Rail-siding shipping is very important because it allows businesses and customers to take advantage of the shipping benefits the railroad system provides. These benefits simply can't be found elsewhere.
The benefits of rail-siding shipping
There are many benefits to rail-siding shipping. The most common that business owners love include the following:
You spend less money.Rail-siding shipping is the least expensive type of shipping. When you choose to use rail siding for your businesses needs, your transportation costs are significantly cut. You don't have to waste time and money on maintaining and repairing trucks. You don't need to spend thousands of dollars on gas. You don't need to pay truck drivers. Paying railroad fees is simple and easy.
Your products are shipped safely and reliably. The safety and security provided by the rail system are unmatched. Products travel from point A to point B without being dropped off at a storage facility and handled or moved. There is little to no chance of your products being damaged or lost when you use the railroad system.
Your products are always shipped on time. Streets and highways are closed for repairs and bad weather. The railroad never closes. It operates in rain, snow, and sleet. It also operates during all holidays. Deliveries and shipments are never held up and are always on time. You and your workers and customers know exactly when products are coming and going. This saves time and money.
The railroad also allows you to ship heavy products and much larger loads than trucks. Typically, a rail car is anywhere from three to five times bigger than a truck. Because rail siding is conveniently located, loading and unloading heavy products and large loads can be done with ease.
How to start using rail siding
Rail siding can improve the logistics, efficiency, and reliability of your shipping processes. The best rail-siding companies are those that have the experience, knowledge, and resources needed to help their customers. They also offer additional services to help meet any and all shipping needs. A rail-siding warehouse is an additional shipping option that can be a great investment.
If you're interested in using rail siding or learning more about ways to improve your shipping, please contact Quality Warehouse & Distribution Co. Inc. We have over 40 years of experience in the shipping industry and would love to provide you with a shipping solution you can count on.