Four Ways to Streamline Your Supply Chain
Posted on December 30, 2016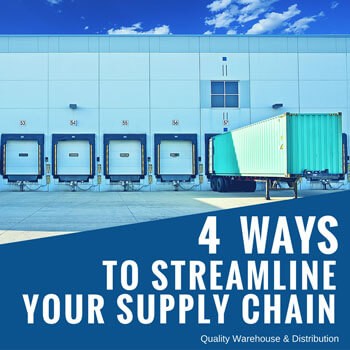 Shippers are constantly searching for new ways to streamline their supply chain. Even the slightest increase in efficiency can lead to a massive impact on the bottom line. There are many ways that an organization can improve their supply chain's efficiency. But not all of them will be appropriate in all situations. Below are four of the most commonly used methods.
Transloading
Transloading is the process of transferring freight from one form of transportation to another. Most commonly, freight is transloaded from truck to rail, or the other way around. This allows a shipper to leverage the cost benefits of rail shipping even if they (or the consignee) are not equipped with a rail spur.
Another form of transloading may involve the consolidation of freight. In some Instances, the contents of three 40′ containers will fit in two 53′ containers. This can lead to a reduction in transportation costs if imported freight is destined for a location further inland.
While transloading can reduce shipping costs, it does have a major drawback. The risk of damage occurring is naturally higher, as the freight needs to be handled an additional time. It is important to use a transload facility that has experience handling your type of freight.
Crossdocking
Crossdocking is the process of unloading and sorting inbound freight, then quickly loading it into an outbound truck with little or no storage time in between. Crossdocking can save time, and also decreases the amount of warehouse space required.
It is important to note that ample truck capacity and strict schedules are required for crossdocking to be successful. Late trucks can lead to a backed up warehouse and will quickly negate any potential cost savings.
Utilizing a 3PL
3PL stands for "Third Party Logistics". They are companies that specialize in managing some or all of a shipper's supply chain. A 3PL is able to reduce supply chain costs through their strategic relationships and logistics expertise. They may utilize their expertise to put in place new logistics processes that increase efficiency. By utilizing a 3PL, an organization is also able to free up capital through the elimination of assets.
Strategic Location
Strategically located distribution centers can increase customer service. A great example is the inland port. Inland ports are located near large population centers, have direct access to a major seaport via Class 1 rail, and have large supporting infrastructure such as highways or waterways. These traits allow many large retailers or eCommerce stores to increase customer service through expedited shipping times.
There are many methods out there that can increase the efficiency of the supply chain. While not all methods are appropriate in each situation, the above four are the most commonly used.