Posted on August 08, 2022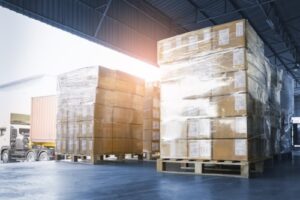 Our expert team have more than 40 years of combined experience in logistics, warehousing, and distribution here at Quality Warehousing & Distribution Co. Inc. This means that we know exactly how to help you with your supply chain – and that includes drayage.
Our services include freight transportation, rail shipping and receiving, public warehousing, and export/import logistics, leveraging our experience and reputation as a world-class third-party logistics provider to ensure that your supply chain can keep up with your growing business. 
One of the most important – and often overlooked – parts of the multimodal logistics process in our global trade economy is drayage. The short haul travelling that your products do can make the difference between a nice profit and a missed delivery deadline, so we are here to help you ensure that it all goes smoothly. 
What is Drayage?
Drayage is the name given to the short distances that freight will travel, often from a port or a rail siding to a fulfillment warehouse. 
The word drayage comes from way back in the history of logistics, where horse and cart was the main method of transport for goods and products. Typically, the cart would have a flat bed and no sides. Called a dray, this was pulled by a draft horse and driven by a drayman, but it could only conceivably travel short distances. You might think of a dray when you think of older beer commercials, barrels being hauled around by heavy Clydesdale or Shire horses in a more slow-paced time. 
Today, we might not rely on a horse and dray to make short freight trips, but the first mile of import and export could end up being the most important in terms of cost. 
How Can Drayage in NJ Help Your Business?
In most cases, the term drayage tends to refer to the short haul journey between a port and a distribution warehouse, before the freight is taken via a different carrier method. This short journey is often referred to as "The First Mile", and it is a vital part of the supply chain, which could cause catastrophic delays and problems if not managed correctly. 
Drayage can include short journeys, in the same urban area, from and to seaports, inland ports, border ports, distribution warehouses, fulfillment warehouses, and intermodal terminals. Today, drayage tends to take place using trucks and the road system, because this tends to be the cheapest and most efficient way of covering that first mile. 
Ports, especially in busy cities like New Jersey, are bustling places with hundreds of freight and steam ships coming to the piers to unload their containers. This can cause bottlenecks and delays, so having the right team available on the pier to get your containers off the ship and into the warehouse is the only reliable way to ensure your supply chain is working effectively and efficiently. 
Whether your containers need to be stripped or transloaded, getting them to a warehouse where this can take place safely and without the risk of inclement weather quickly will make container unloading that much more simple – and that is why our drayage service is so important to your business. 
Multimodal Freight and the Growth of eCommerce
One of the reasons that short haul freight journeys are becoming so commonplace is the boom in eCommerce. The development of dropshipping and prevalence of international shopping options has meant that the pressure on ports and piers to receive goods from overseas has also grown, causing even more congestion and inefficiency. 
Drayage is a vital part of the multimodal supply chain, providing a seamless and reliable way to get containers from the ship to the warehouse, ready to be stripped or transloaded for the next stage of the journey – whether that be by road, rail, or air. 
This section of the delivery process might end at a rail depot, where the containers will be unloaded before a drayage service takes them to a fulfillment warehouse. Individual purchases can then be packaged and sent via courier, smaller truck, or even the postal service. 
All these moving parts can make logistics difficult, which is why it is vital to have the right team on hand every step of the way. 
The Team You Can Rely On
Aside from drayage in New Jersey, our team can solve your warehousing and distribution problems quickly and easily, with competitive pricing. 
Working at both the New York and New Jersey Piers, our conscientious import/export teams can strip, stuff, or transload containers, based on your requirements. Thanks to our long-standing history, we have concurrencies with all steamship lines at both sets of piers, making it easy for us to organize both drayage and longer haul freight right from the ship. 
Drayage services can bring your imports to our public warehousing, serviced by 32 loading docks with more than 240,000 square feet of space. We accept a minimum of 200 pallets or ten containers per month for storage, and can handle most industrial goods except hazardous materials (but speak to the team to ensure that we can safely deal with your freight). In our warehousing, we can strip, stuff, and transload containers and railroad cargo, and we use advanced technology in computerized labelling and inventory management systems. 
Our 3PL team are on hand to advise you on your logistics. Our extensive knowledge and experience can help you decide on the most effective shipping method for your freight. With air being expensive (but fast) and water the cheapest but not necessarily the most convenient, our team are on hand to help you reduce your overall costs and time for shipping (usually a combination of road, rail, air and water) and the best carriers to use. 
To make the most of our outstanding customer service, excellent personalized pricing, and more than 40 years of knowledge and experience for your logistics, warehousing and supply chain needs, contact the Quality Warehousing & Distribution Co. Inc. team today via email.