What Is Contract Warehousing?
Posted on August 07, 2023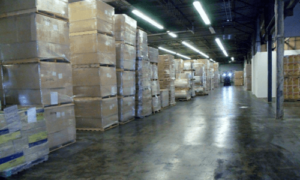 If you're looking to store, ship, and improve your logistics, contract warehousing might be the lifeline you've been looking for. So, what is contract warehousing? In this article, we'll go over everything you need to know about using a contract warehouse for your business. Learn more about saving time and money by leaving storage and logistics to the experts. Let's jump in and see which warehouse options are right for your business.
Contract Warehousing vs. Other Types of Warehouses
Operating your own private warehouse takes a lot of time, staff, and overhead costs. From inventory management to upkeep and logistics, it isn't always feasible to run your own private warehouse. This is where contact warehousing can save you a ton of time and money.
Contract warehousing is where you've entered into a partnership with a warehouse provider who will store, ship, and receive goods on your behalf. You can also take advantage of their packing, shipping, logistics, and inventory management services. One of the biggest perks of using contract warehousing over doing this yourself is the help with logistics, receiving, and packing.
It's important to note that contract warehouses differ from some public warehouses. To start, some public warehouses are often used as a seasonal or short-term storage solution. You may get billed per month and for whatever storage you use.
One of the drawbacks of other public warehouses is that you may not always have the space you need. If you need more than one month and it's already filled, this storage is on a first come first serve basis. Contract warehousing, on the other hand, provides guaranteed storage just for your business.
The Benefits of Contact Warehousing
The benefits of contract warehousing are almost endless. One of the greatest perks is that you don't have to manage the daily operations of managing your inventory. You can focus on sales, marketing your product, and growing your business. Let us manage the daily grind of warehouse operations.
Building and maintaining your own warehouse is a huge investment. With contract warehousing, there's no need to invest in buying or building your own warehouse space. You also don't have to pay for employees to staff and run in.
Contract warehousing allows you to use other people's facilities at a fraction of the cost. The expenses and costs are much lower, and you don't have to run the warehouse using your own staff. We'll do the maintenance, storage, shipping, receiving, and more. Use the experts at your disposal so you don't have to manage and train employees.
Contract warehousing allows you to focus on your business and not on what's happening every minute in your warehouse. Between receiving delays, inventory management, packing, and shipping, there is a lot for you and your staff to think about and manage. Free up your staff and your time to focus on growing your business instead of inventory and warehouse matters.
Improve Your Business Logistics
In addition to warehouse storage, contract warehousing with us will also provide you with logistical support for your business. With access to several piers in New Jersey, New York, and Philadelphia, we can help make your logistics more efficient. Online shopping is here to stay, and we're here to help you meet the demand.
We can help load containers, strip them, and pack them so that this is one more thing off your plate. There's no need to coordinate your own fleet and spend time and extra money managing your own logistics.
We specialize in stripping, stuffing, and transloading containers. We'll coordinate with piers and other receiving areas, take care of the shipping and receiving, and get your products ready to ship from our warehouse. We have decades of experience and relationships in the Tri-state area, giving you access, security, and professionalism.
Think about how many people you would need to coordinate and manage your business logistics. This is a huge time and money saver. Leave logistics to us and know that you're in the best hands in the industry.
More Than Contract Warehouse Storage
Contract warehousing partnerships provide more than just storage. In addition to storage and logistics, you can also take advantage of managed rail siding services, rail transportation, competitive pricing, and more.
We can take care of stuffing and stripping rail boxcars, unloading, and more. There's no need to coordinate this plus forklifts, clamp trucks, and cargo equipment. Managing, renting, and coordinating all of these services on your own is a full-time job.
We can also help with rail shipping. We can take care of shipping cargo from New Jersey all over North America. This is a huge cost and time saver. In addition to storage, you can also rest easier knowing the experts are taking care of cargo transportation and logistics.
What Is Contract Warehousing? Find Out More Today
What is contract warehousing? If you're looking to learn more about contract warehousing, you've come to the right place. We have warehouse options, inventory help, and more. Let the experts help take logistics, warehouse inventory, shipping, and receiving, off your plate.
Building your own private storage warehouse and logistics team is costly and time-consuming. If you don't want to spend the capital building this all for yourself, we have a variety of solutions to meet your needs. To learn more and to speak with one of our professionals, fill out the contact form here.