7 Reasons to Start Using Warehouse Fulfillment Services
Posted on March 16, 2021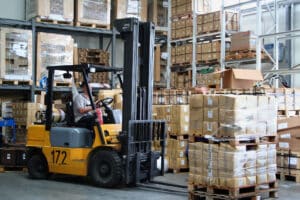 The use of warehouse fulfillment services and direct-to-consumer methods like dropshipping have enabled businesses to lower costs and grow faster than ever before.
However, it can be understandably intimidating when you're starting out or trying to scale. In the following article, we give you the seven reasons to use these services once you've determined the time is right.
Let's begin!
1. So You Are Not Tasked With Inventory
Using warehouse fulfillment for dropshipping or simply tracking inventory takes one major task off your plate as a business owner.
You don't have to invest in the infrastructure or software necessary for keeping up with what's in stock. This can get tedious and open you up to a whole other set of expenses, like additional taxes and utilities.
2. To Fulfill Orders More Quickly
Outsourced warehousing also enables faster fulfillment. No more taking the time to find the product on the shelf, pack it, ship it, and update your inventory logs as each one goes out.
Warehouse fulfillment services can start the entire process as soon as an order is placed. Their processes and technologies are well-established and focused on this very thing, thus streamlining the time from order to arrival.
3. Lower Shipping Costs
Outsourcing order fulfillment, as noted above, is all about streamlining. Naturally, this saves through having the necessary packing supplies on-hand, bulk shipping rates, and additional payroll costs for the personnel required to fulfill the order.
4. Bring Down the Cost of Operations
Partnering with these distribution centers will naturally lower the cost of your operations for all the reasons we've mentioned so far. It will also give you the chance to look at other areas of the business where you may be overspending.
Lower operational costs mean a bigger profit margin. This creates revenue opportunities as well.
5. Facilitate Better Customer Service
Investing in order fulfillment services is a customer service improvement in and of itself. That's because your customers are getting their orders more quickly and affordably. However, it doesn't end there. Taking this major hurdle off your plate gives you the opportunity to study your customers in more depth.
What are their pain points? How is your product or service helping them? What more could you be doing to improve their lives? Drill down further on who your customers are and what they truly need. When you do, you'll be able to go well beyond order fulfillment.
6. Increase the Products You Can Carry
Pouring more resources into customer service (No. 5) will give you more opportunities to generate revenue through additional products and services.
Space and logistics are no longer a concern. This unleashes your creativity and decreases the necessary time for getting new solutions to market.
7. Scale Your Business
More revenue and less overhead and operational costs mean one thing. It becomes much easier to scale, or grow, your business so it can serve a wider geographical area and more customers.
More customers mean more revenue and profits!
Use Warehouse Fulfillment Services to Boost Your Business
Ready to scale your business, cut costs, boost revenues, and give your customers the experience they deserve? If the answer is yes, then you are ready to consider warehouse fulfillment services for your company.
When you're ready, trust only the best. Quality Warehouse & Distribution has more than three decades of experience in this market, and we're ready to serve you.
Follow this link to learn more or request a quote from us today!