Posted on July 28, 2020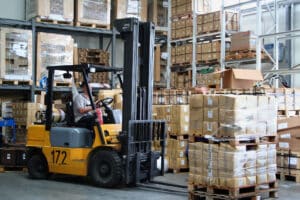 Customer expectations are rising, 45% of US shoppers expect orders placed in the morning should be eligible for next day delivery. This creates a great demand on the fulfillment efforts of smaller businesses.
As your small business grows, this demand and expense will become greater. At a certain point, it will no longer be cost-effective to manage your own warehousing and fulfillment efforts.
This guide will help you know and understand when it's time to start using warehousing fulfillment services.
High Operating Costs
As your business grows, you'll need more warehouse space to house inventory. You'll also need more people to manage that warehouse space and pack and fill orders. Then there are the supply costs for the packing materials and the actual shipping costs.
A fulfillment warehouse can be more flexible with your inventory space needs. This allows you to fluctuate throughout the year with demand, creating more effective supply chain management. It can also help you incrementally scale up without having to spend more on warehousing than necessary.
High Shipping Costs
A fulfillment center can offer you lower shipping costs through there volume discounts. This lets you secure lower shipping rates with regional, national, and international shippers.
Another benefit for your shipping efforts is the already established network of distribution centers. Order fulfillment companies will have multiple locations throughout the country to reduce your shipping times and costs.
You Want to Expand
Maybe your business is only well-established in a particular region, but you'd like to expand to be national or international. That same network of fulfillment centers can help you grow.
Your Shipping Times Are Too Long
When you ship from one local warehouse, you have limited control over shipping times. Nearby local deliveries will arrive in a day or two, which is great. But further away deliveries could take as long as a week.
Warehouse fulfillment services will help you reduce these longer shipping times by having inventory already nearby in fulfillment centers. Now all of your customer's expectations will be fulfilled.
You Spend Too Much Time on Fulfillment
Warehousing and fulfillment are only a small part of your entire business. It shouldn't take up the majority of your time and attention. Third-party services can help you gain time back.
This lets you focus on the other areas of your business, such as marketing, promotions, sales, product development, and growth.
Technology Is Lacking
Software is expensive, and you may not have the funding to purchase the latest in warehouse and fulfillment management software. The right fulfillment service invests in its own business. This means they have the latest innovative software.
By working with the fulfillment center, you can utilize this advanced technology without having to invest your company's resources.
Arrange for Warehouse Fulfillment Services Today
As you can see, there are many challenges that your business currently faces that fulfillment services can address. If you find yourself struggling with rising fulfillment costs and struggling to scale up, then it's time to consider using a third-party fulfillment service.
Contact our team of experts today and let us help you optimize your fulfillment efforts.