Types Of Warehouse Storage Explained
Posted on May 25, 2021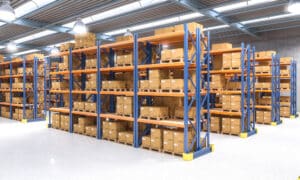 Thinking about your warehouse storage options? You aren't the only one, as the demand is so high. Various experts predict that the United States may need an additional billion square feet of warehouse space by 2025. You need not concern yourself too much since all you need is to find the right warehouse for your business.
To learn the best types of warehouse storage, read the rest of our guide.
1. Static Shelving
This type of warehouse storage uses shelves fixed to the floor to store stocks. It means you can't retrieve them using a forklift. These shelves are perfect for holding lightweight stocks that require constant replenishment.
Static shelving is inexpensive when compared to mobile shelving. It has lower purchasing and installing costs. However, the labor work and maintenance costs can add up in the long run.
If your inventory requires manual placing, picking, and organizing, static shelving is ideal. It allows for quick and easy stock access. These are some of the ideal products for this storage system:
Clothing
Agricultural produce
Machine parts
You have no means of storing or handling massive inventory using static shelving. Your staff must give proper attention and handle the items with care.
To make a decent system, consider the height of the storage shelves and the items' weight. The former will make ladders necessary for access. The organization is simple enough. You need only place the heavier items on the bottom shelves.
You can also pick between short-span and long-span shelving. The former is better for smaller items, whereas the latter is better for bigger items. The only limitation of long-span shelving is the larger space requirements.
2. Mobile Shelving
This storage system is great for holding bigger inventories using less space. With mobile shelving, you can handle stored items manually or mechanically. The system is more flexible and adjustable compared to static shelving.
You can mount the shelves or cabinets on rail systems and carriage. It eliminates the need for fixed aisles often seen in static shelving systems. It's a great way to increase your warehouse management system's efficiency without much trouble.
Mobile shelving has lots of benefits, like increased productivity. It makes item access easier and makes handling large inventory possible in more limited spaces. You either use a top-mounted or floor-built level trackway for the storage units.
You must put a specific system when arranging the tracks. It ensures their stability without compromising the floor's integrity. Also, securing the inventory is easier with a locking mechanism.
3. Wire Partitions
In this system, you install wire cages in strategic locations to make storage rooms. It's better for merchandise and tools requiring special protection. You can tear these cages down after picking the items.
This partitioning method is best when used to make separate spaces for floor managers. Either way, wire cages use heavy-gauge steel for their construction. The classic pattern fits the average interior of most warehouses.
You can modify these cages, expanding and reducing as space requires. It offers a quick and reliable option for temporary storage.
4. Multi-Tier Rack Systems
This warehouse racking system is for medium to large warehouses. They work best if these locations have lots of vertical space. It has various tiers that allow manual access up to the warehouse's upper limit.
Proper storage requires strategic organization for each tier. It makes more space to store more items. It wouldn't be a problem if you opt for third-party warehousing services near your area.
Regardless, multi-tier rack systems are flexible. It's their best feature since it allows you to add or remove tiers as per your requirements. The only limitation is the weighing limits and compliance guidelines to avoid accidents.
5. Mezzanine Flooring
Mezzanine flooring requires constructing two or more floors above the warehouse floor. It's for storing your inventory. These floors have enough space for workers to do their tasks of checking, picking, and moving storage units.
This system is the most effective option if you intend to save space. It's for warehouses with more strategic layouts. The high upfront costs for making and installing are worth the benefits of not having to pay rent for extra storage space.
Mezzanine flooring systems offer customizable designs for various warehouses. Technological advancements allow for more features, such as:
Conveyors
Lighting
Suspended ceilings
Fire-safety appliances
Lift systems
These designs are seamless when integrated with various storage solutions. They're flexible enough to fit into any warehouse space. However, consider your stocks' weight and fragility when thinking about your warehouse design.
The flexibility of this system allows for dismantling whenever necessary. It's a handy feature when moving to a new storage facility.
6. Pallet Racking
As its name implies, this system will store inventories using pallet racks. The material can vary depending on your needs: wood, metal, or plastic. The largest and busiest warehouses often use this system, like grocery stores.
When receiving large storage boxes, an automatic mechanism or a forklift stores them. It depends on the height of the racks.
If you're considering this system for your warehouse, consider factors. Some of these include the pallet size, ceiling height, warehouse space, and your budget.
Pallet racking has different sub-categories. These are some of them:
Drive-through Pallet Racking
Coil Pallet Racking
Push-back Pallet Racking
Vertical Pallet Racking
Narrow Aisle Pallet Racking
Pallet Live Racking
High-bay Pallet Racking
Your choice of pallet racking category depends on your storage units. Check their weight, flexibility, and infrastructure. It ensures that your system handles each inventory efficiently.
Regardless, most warehouse owners prefer pallet racking storage systems. They're cheap and efficient, allowing you to store more items in a framework. You can access these items without risking some potential failures in the long run.
Use Different Types of Warehouse Storage Today!
These are the most common types of warehouse storage around. Depending on your storage needs, use any of these systems to ensure success.
Would you rather have a third-party handle your warehousing needs? Contact us today and we'll get in touch with you as soon as we can!