The Different Types of Logistics Service Providers
Posted on May 08, 2023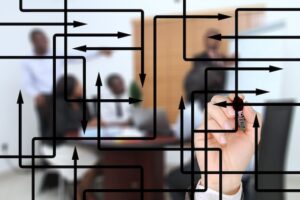 Your business has an excellent product, but are supply chain hiccups causing customers to miss out on it — and you to miss out on money?
Research shows that the average business can expect major disruptions in their supply chains to happen nearly every four years. In light of this, it's critical that you have a strong logistics strategy in place to maintain healthy business operations long term.
Logistics is becoming increasingly sophisticated, though. Here's a look at the different types of logistics service providers available today. We'll also go over how they can fill businesses' different needs.
Different Types of Logistics Service Providers Include 1PL Service Providers
One of the key types of logistics service providers available today is first-party, or 1PL, providers.
With the 1PL approach, a company handles their own logistics responsibilities. For instance, as a 1PL service provider, you would store goods in your own warehouses. Then, you would move goods from point A to point B using an in-house transportation fleet.
The 1PL model may work for a small company with just one distribution and sales channel. Examples of this type of company include a social media shop or brand website.
Likewise, large enterprises may turn to the 1PL model if they've invested significantly in building in-house logistics capabilities.
However, few companies today rely on the 1PL model. That's because outsourcing this service improves companies' flexibility.
2PL
Second-party, or 2PL, providers are carriers that transport goods to various locations across companies' supply chains. They are sometimes called shipping companies. They might also be named freight forwarders.
2PL service providers are the ones who own and operate the different modes of transportation needed to move goods. These modes of transportation may range from vehicles to planes and ships.
For instance, you can use a 2PL to send a product from a storage facility to a customer's door via a truck.
The 2PL model is ideal for any company seeking to outsource their transport operations. This is true whether they would like to do this domestically or globally.
3PL
Third-party logistics providers, or 3PL providers, offer various logistics services and solutions. They do this for companies of all sizes and from any industry.
Perhaps you would like to outsource part of your logistics operations. Maybe you're interested in outsourcing all of it. Either way, a 3PL provider can help.
By handling your logistics for you, a 3PL provider can help you to focus more on doing what you do best: running your business. For instance, you can concentrate more on business or product development.
A 3PL provider can handle your warehousing needs. They will also manage inbound and outbound transportation requests for you.
This type of provider doesn't have to own a truck fleet. Instead, they can outsource freight and shipping operations to carriers that specialize in these areas.
Both larger and small businesses can benefit from 3PL services.
With the help of a 3PL provider, you can optimize your company's logistics operations. This will ultimately allow you to improve your business's customer experience. In addition, you'll be able to expand into brand-new markets.
4PL
Fourth-party, or 4PL, providers provide more extensive solutions for managing supply chains. A 4PL provider can optimize and run part of or all of your company's supply chain by themselves.
A 4PL service provider can actually manage several 3PL providers. In addition, they can manage other partners in a company's supply chain.
This type of service provider doesn't own physical assets that they can use to move products. Rather, they will contract with 3PL providers and freight companies to manage logistics for their clients.
A 4PL provider essentially serves as a consultant on supply chains, bringing expertise in areas such as demand forecasting and industry software. Their goal is to smoothly assemble and manage their clients' outsourced supply chains.
4PL service providers are most helpful for big companies whose logistics operations are highly complex. Likewise, they work best with large companies with global supply chains.
5PL
Finally, fifth-party, or 5PL, providers offer an even higher level of logistics support than 4PL providers do. This type of provider is the best fit for e-commerce sector companies.
A 5PL provider can run every aspect of a large company's supply chain by managing multiple 3PLs and 4PLs. This allows them to negotiate the best carrier rates for their clients and experience market dominance.
When a company works with a 5PL provider, they can expect the provider to source services and negotiate appropriate contracts for them.
Let's say Company A provides a large number of products worldwide. They may partner with a 5PL company.
The 5PL service provider might employ a 3PL company in Singapore to handle Company A's logistics throughout Southeast Asia. In addition, the 5PL provider might engage 4PL providers to manage logistics for certain products.
How We Can Help with Your Company's Logistics Needs
The different types of logistics service providers today include 1PL through 5PL service providers. However, the 3PL model remains the most commonly used logistics management strategy.
3PL service providers are typically responsible for some or all aspects of a company's fulfillment services. They also handle warehousing and distribution services.
At Quality Warehouse and Distribution, we take pride in offering high-quality warehousing and import-export services. Our 3PL services also include short- and long-haul transportation services by rail.
Get in touch with us to learn more about our logistics services, and receive a quote today!