Posted on February 06, 2023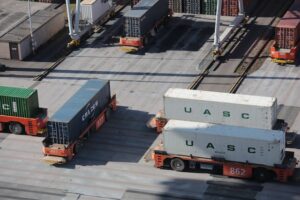 The Third Party Logistics market is set to reach $1.3 trillion by 2026. There's no denying the benefits of this industry to small and medium-sized businesses, but how do you find the right company to work with?  Also referred to as 3PL, this service handles your transportation and all the logistics of your business. Therefore, you must have a trustworthy logistics provider.
Luckily, you've come to the right place to learn tips for finding the best third-party logistics company.
Ready? Let's dive in!
Why You Need to Work With a 3PL Company
A third-party logistics company can take care of everything from warehouse duties to other supply chain processes.
No matter the reason for using a logistics company for your business, they are an excellent choice for outsourcing time-consuming tasks.
But what other services do these companies offer for business?
Here are some of the other logistics services you can benefit from working with a 3PL company:
Freight forwarding
Load management and dispatch
Technology integration
Warehouse and inventory management
Therefore, depending on what you need, a logistics service provider can manage aspects of your business so you can have more time for other business tasks.
Benefits of a Third-party Logistics Company
Without a doubt, working with a third-party logistics service will save you time. In addition to giving you more time to focus on other areas of your business, it also reduces manual work.
A 3PL company will look over necessary paperwork, fix administrative errors, and allocate enough time for planning shipments. However, there are other benefits to outsourcing this side of your business.
Constant Optimization of Processes
Instead of investing time into upgrading and optimizing shipping and logistics, a 3PL company will ensure that your processes are working efficiently and are fully updated.
They can analyze your current processes and find ways to make changes for better management. This means you could cut costs and save money in areas where you're overspending.
And, the best part is that they can take care of it for you.
Increased Carrier Capacity
Working with a third-party logistics company is also perfect for increasing your load in carriers. Due to their connection in the industry and experience, you'll be guaranteed to get more space for your money.
By increasing the carrier capacity, you'll be able to take on more work, and the quality of your service won't diminish. As a result, your management process and workflow will improve.
Tips for Finding the Ideal 3PL Provider
Before you book a 3PL service, you need to double-check a few things to ensure you're working with a professional and reliable company. For instance, you must ask about experience.
Experience Is Everything
Logistics and shipping are complicated businesses, requiring a lot of insights into the industry to carry out jobs correctly and efficiently. Therefore, you want a company that has industry experience.
As these companies will act on behalf of your business, you want them to maintain high standards and help you build a good reputation.
So, not only is it essential to find a company with experience, but they need to have experience in various parts of 3PL services such as freight forwarding and warehouse management.
Otherwise, you'll have to work with multiple people to cover all areas of the logistics.
You can see a portfolio or ask about their experience during a consultation call. A professional company will be happy to assist you with any questions.
Think About Your Business Needs
Another essential part of hiring a 3PL provider is outlining your needs and the demands of your business. That way, you can be clear about the expectations and requirements for the job.
For example, you should write down the type of cargo and the specific packaging it requires. You must inform the logistics company if you have highly delicate items or bulky, heavy products.
Once they know the weight, size, and other information regarding your business, they can let you know if they have the skills and capacity to handle the logistics.
Ask to See References
A reference is the number one way to determine if a third-party logistics provider is right for you. Ideally, a company will have a list of previous clients who all recommend their services.
This is a great way to see if the provider is willing to be transparent and open about their company. If they are happy to show you their portfolio and talk about their long-term clients, you know you're in safe hands.
Likewise, if they are hesitant and get frustrated when you ask about references, it's a sign that you need to look elsewhere.
But, it's best to know they are unreliable in the initial stages before you start work and find out they haven't been truthful about their company.
Seeing references will give you peace of mind and allows you to start the working relationship on a positive note. So, don't forget to ask about references!
Clarify the Working Hours
The last tip for finding the perfect 3PL company is to clarify their working hours. You'll need more urgent logistic assistance if you run an on-demand business.
However, if the company only works during the week, this might be a problem for your business.
You want to check that they are available for you when you need them and how fast they can respond to urgent messages about the business. As long as you're open about the working hours, there should be no issues later.
Work With a 3PL Provider With Decades of Experience
In the modern world, when businesses come and go every day, it's essential to find a company that can stand the test of time.
You'll be sure we have the expertise and knowledge to handle your third-party logistics with us.
Why?
Because we have over 40 years of collective experience in the industry.
We can cover everything from shipments to warehouse management.
Click here to discover our fantastic Quality Warehouse and Distribution services, and get in contact if you have any questions.