The Benefits of Outsourced Warehouse Needs
Posted on November 22, 2021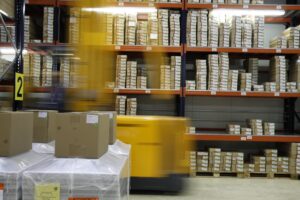 In the world of manufacturing, having an outsourced warehouse isn't a new trend. Many companies have realized cost savings and greater efficiency using these services. For many, it's become a crucial part of their operations strategy.
A 2019 survey showed that over 80% of businesses were planning to significantly increase budgets for logistics outsourcing. This would go towards even more than just fulfillment and warehousing.
Their findings also indicated that companies were no longer questioning the need for outsourcing to improve business operations. They were more concerned with how much of their operations they should outsource. 
You may not be one of them, and that's okay. Are you uncertain about outsourcing your warehousing operations? Read on for reasons why you might want to reconsider.
What Is Warehouse Outsourcing?
Most businesses outsource various operating functions to reduce costs. The same is true for warehouse outsourcing. 
Warehouse outsourcing involves hiring a third party to manage and control your warehouse operations. Although this is usually a part of internal operations, businesses outsource them to create greater efficiency. The third-party will perform the following on your behalf:
Receive incoming inventory

Secure inventory safely to ensure they're not damaged

Handle all associated paperwork
If you are outsourcing fulfillment as well, the third-party company will package and ship orders to customers.
Reasons to Outsource Your Warehousing Services
There are many benefits of warehouse outsourcing. Although cost savings is one, the Gartner survey also found that only 34% of companies that outsourced these services thought this was a priority.
Here are some other benefits of outsourcing warehousing services.
1. Eliminate the Need for Capital Expenditure
Although cost savings may not be a priority for many businesses, smaller companies might have budget constraints.
As your business grows you'll need to expand. However, purchasing your own warehouse or storage facility often requires a substantial investment.
Outsourcing your warehouse services will eliminate the need for any capital expenditure. But the cost of the property isn't the only expense to consider. Other costs such as security, equipment, and vehicles are also warehouse-related expenses that you won't need to worry about.
2. Ideal Location
It may be difficult to find a warehouse in a location that would facilitate the greatest efficiency. If you do, it may be at a substantial cost. Most third-party logistics companies already have warehouses with great accessibility. 
This allows them to quickly move goods through central locations including cities, routes, ports, highways, or airports. Your distribution costs will be greatly reduced by using warehouses in key areas.
3. Easily Adjust to Fluctuations in Distribution
Consider yourself fortunate, if your business doesn't experience any downtime. Most companies have fluctuations at various times during the year. This can affect the amount of storage needed and number of orders processed.
Outsourcing your warehouse services means you won't need to worry about warehouse capacity. This allows you to scale your distribution and you only pay for the space you need.
It also facilitates more efficient management of your inventory. This frees up staff to focus on customer service and other business functions.
4. Save Time
Outsourcing services not only frees up the time of your employees, it also eliminates the need to hire additional staff for these business functions. Warehousing and fulfillment can be time-consuming. It requires attention to detail and should be managed meticulously.
Companies that provide outsourced services have the business tools and expertise to do this efficiently. Outsourcing services allows you to concentrate on improving other business processes to grow your company.
5. You Focus On Your Business
The most important thing for you, when it comes to outsourcing certain aspects of doing business, is the simple fact that it gives you the ability to focus on what's important to you, which is running your business. You didn't get into running your business so that you could spend half of your time thinking about how much space you have to order more inventory; you're in it because you're passionate about what you do.
Growing a small business is a full-time commitment, so the less time you spend focusing on the logistical side of things, the more time you'll have to innovate and expand. The landscape for businesses these days is always changing; right now it's all about digital marketing and branding on social media.
As the head of your company, you need to be at the forefront of these changes. Outsourcing a huge task like warehousing can free you up time for you to become the entrepreneur you need to be in 2021 and beyond.
6. Benefits Can Be Passed on to Customers
The expertise of warehouse outsourcing companies can make you more competitive. Their experience allows them to benefit from lower shipping costs. They also have the ability to guarantee shorter order fulfillment times. 
They invest in logistics technology including transportation management systems (TMS) and warehouse management systems (WMS). This helps them to increase distribution efficiency which your customers will benefit from. 
7. Technology That Facilitates Expansion
In addition to benefiting from the physical space provided by outsourced services, their technology can also help you to expand easier. These companies invest in prime real estate as well as advanced technology. This technology can help improve:
Local landside services

Order fulfillment

Cloud-based stock management systems

Supply chain management
You also won't have to worry about the implementation or cost of these as you expand.
8. Ease of Scalability
Another type of expansion! As your company grows and expands into different markets – creating new products and building a larger customer base – your inventory levels and transportation needs are going to expand as well. It can be incredibly hard to predict how this kind of growth will take place and the impact it'll have on your infrastructure, so having an outsourced warehouse to rely on for all of your storage and distribution is invaluable.
Not only can a warehouse handle any type of inventory or distribution fluctuations, but as you're growing, you don't have to worry about your staffing needs in this department. All you have to do is focus on accommodating this growth and making sure that you've got enough inventory to keep up with your customer base.
Something else to consider here is the seasonal fluctuations that every retail and e-commerce business experiences. Your orders may spike around certain holidays, like Thanksgiving or Christmas, and if you don't have the infrastructure to prepare for these spikes, you may end up leaving a lot of sales on the table. When these rushes hit, a warehouse company will be able to accommodate any extra inventory that you need to give them.
9. Less Risk
Any risks associated with maintaining the processes involved in storage and fulfillment become the responsibility of the company providing the outsourced services. They will also need to worry about ramping up personnel for seasonal changes. 
They must also comply with any customs guidelines. These are just a few things that will no longer be a concern for you.
10. Simplifying Your Workflow
Outsourcing your warehousing needs simplifies your workflow. No longer will you have to coordinate operations between shippers, carriers, transporters, and various other vendors that you'd normally have to find and pay. Instead, your warehousing company will handle everything themselves.
This saves you time and lets you focus on what you need to do to grow your business. It also reduces the margin for error that is inherent in having to coordinate the logistical side of your business; manufacturing products, talking to customers, ordering supplies, and everything else that comes with being an entrepreneur. Every business owner yearns for simplicity and outsourcing your warehouse and fulfillment needs can give this to you.
Having everything simplified and combined under one roof makes things much more efficient too. When you've got multiple shipments going out to various locations, a dedicated warehouse can get things out the door in a more timely manner than sending sporadic shipments. Of course, this impacts customer satisfaction as well.
11. Experience and Expertise
An underrated feature of outsourcing your warehouse needs has to do with the fact that warehousing and distribution can be a complicated and time-consuming process. When you've been singularly focused on growing your business, it's unlikely that you would also have a thorough understanding of how to properly store inventory and fulfill orders.
Having a warehousing company on your side puts these crucial operations into the hands of people that have experience and expertise in all things having to do with warehousing. This helps the day-to-day operations run smoothly and, should any problems arise, they can be dealt with in an efficient and timely manner so you don't have to worry about it. Often, this ability to troubleshoot supply chain issues is the difference between keeping customers and losing them.
Choose the Outsourced Warehouse That Works For You
Logistics can be a nightmare, especially if your business expands rapidly. It entails getting a location to store your goods and investing in the technology to manage the movement of these goods. It also means increasing your staff to ensure you have the expertise to manage all aspects of your warehouse.
It's additional issues you won't want to have to focus on, especially when you could be improving your goods and services instead. But you don't have to endure the hassle of managing everything. Outsourced warehouse services can take the headache out of logistics.
These are just a few of the many benefits of hiring an outsourced warehouse to handle your storage and fulfillment. Finding the right warehouse outsourcing company to accommodate your needs is so important and that's why choosing Quality Warehouse & Distribution is the right move. We're a state-of-the-art public warehousing company, servicing the entire tri-state area, and we can help your business grow at a comfortable pace.
To learn more about how we can help you, visit our website. When you're ready, contact us to talk to one of our helpful representatives and change the way you do business forever.