The Complete Guide To Third-Party Warehousing And Distribution
Posted on November 19, 2021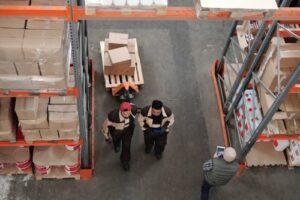 Have you noticed a change in the building landscape recently? Warehouses are going up in record numbers compared to office space. And rent for that space has increased 7.1%, or $8.44 per square foot.
So with the rising cost of leasing, many turn to third-party warehousing instead. Online shopping drives much of the growth, but other business models are seeing the value. But increased demand for production has also factored in the need for space.
Yet you may not be sure where your business fits in the supply chain. So if you want to know more about the logistics, keep reading. There's a third-party warehousing solution for almost any business.
What Is Third-Party Warehousing?
At the hub of the supply chain, third-party warehousing does much more than store goods. Many companies rely on logistics partners to move their products. The warehouse will first accept the goods and separate them into categories.
When the business needs to ship products to customers, the warehouse goes to work. Third-party warehousing then performs the task of picking and packing for shipment. The warehouse partner must understand the variables of each business so they can work with the product efficiently.
So, 3PL will have inventory management systems to match the model of their customer. Then, depending on the business model, the warehouse can pull appropriate material.
For example, some businesses sell components for assembly by the user. The 3PL partner will have different packaging for each part that needs collecting to ship. This method of kitting each shipment is the duty of third-party warehousing.
What Is Drop Shipping?
Third-party warehousing has also grown with retail companies that offer online shopping. The new retail model reduced the need for brick-and-mortar locations. Instead, businesses operate with a digital storefront.
Retailers keep an online presence and never see the products they sell. Instead, products get stored at third-party warehousing from manufacturers. Then, when the retailer sells an item, the warehouse staff does the picking, packing, and shipping.
Often called 4PL logistics, these warehouses function on behalf of sellers. The warehouse must keep track of available products and send restocking reports. They will also have contracts with international courier services for the delivery of items.
So while a 3PL service will store your goods and ship when required, the 4PL service takes on more control. Third-party warehousing is a space provider. 4PL is an operations hub for resellers of products.
Business Types and Materials
Third-party warehousing is now in demand by more kinds of businesses than ever. Aside from the retail supply chain, 3PL handles materials of all shapes and sizes.
B2B industries enjoy the benefit of holding spaces for large containers. For example, a company combining raw materials will use a 3PL provider for storage. Then as a raw material becomes low in supply, the company orders the product they own from the warehouse.
But besides bulk goods, third-party warehousing dedicates space for a company's product line. So when the business needs to ship specific products, the warehouse does the work. Then, after picking and packing the order, the warehouse ships it all as one to the buyer.
Of course, the e-commerce market has created a growing demand for more comprehensive supply chain solutions. Retailers need their products to be closer to shipping lanes for faster transport.
Advantages of Third-Party Warehousing
Outsourcing some of the supply chains helps new businesses grow faster. For start-up companies, 3PL relieves the expense of buying or renting property. The company can then keep a smaller footprint while putting capital to better use. In addition, as the company grows, third-party warehousing provides more space. As a result, there is less need for in-house labor.
Part of the 3PL provider's job is to schedule shipments and keep track of inventory. Then, the business needs only administrative staff to manage the outsourced warehousing. So the business is saving costs on several fronts.
Lower labor and physical space cost more than make up the other 3PL functions. Picking and packing duties cost less with third-party warehousing. 3PL services provide these functions for several customers at the same time.
One of the most significant benefits to any business is the pricing advantage gained for shipping. Experienced 3PL companies have contracts with freight carriers at discounted rates. Yet, with these contracts, goods are likely shipped faster as well.
So when considering the advantages, there is more than cost savings involved. For companies that ship finished products, the customer experience gets better. Faster shipping methods at lower costs are an enormous benefit for customer satisfaction. Outsourced transportation is, again, an administrative saving for the business. Manufacturers can concentrate on product quality. Retailers can focus on sales funnels while 3PL looks after transport.
More Flexibility
The pace of business increases in every sector with growing customer demands. As a result, speed of service is a significant factor in customer retention. With reliable third-party warehousing, business keeps moving without the growing pains.
So when a business can operate without the weight of physical warehouse space. they can operate almost anywhere. 3PL allows for smaller and leaner transitions to more significant projects. After all, the company's focus is on providing the best quality products.
Recently, the supply chain has experienced challenges because of the pandemic. Third-party warehousing companies are working closely with those challenges. Their involvement makes one less headache for manufacturers and retailers in challenging times.
Adapting to New Models
Because of the changes in today's marketplace, third-party warehousing has become more integral. Retail companies and manufacturers don't need to devote more time to logistics. Outsourcing is a way for businesses to track and keep inventory at arm's length.
So partnerships 3PL will only continue to grow as the business model changes. The best for any company is to create partnerships early with providers that will help them grow. So if you are looking for a third-party warehousing solution to fit your company's needs, give us a call tod