What Are The Benefits Of Pier Drayage?
Posted on June 27, 2022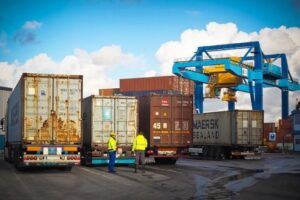 Did you know that approximately 5 to 6 million shipping containers are crossing the sea at any given time? The US imports more goods in this manner than any other country.
The shipping process by cargo ships enables the rapid transport of a wide variety of goods to a wide variety of destinations. As a result, import and export goods continue to grow in size, but each has its own requirements.
Pier drayage is the process of transporting goods from a port to a warehouse or storage facility, and vice versa. However, port drayage is not as simple as that. First, we'll explain what this is and what benefits it has to offer.
What Is Pier Drayage?
The term "dray" has been used for centuries. It was initially used to describe a low cart or wagon with no sides. During the years of 1700s and 1800s, merchants relied on horse-drawn vehicles to move goods from one location to another. Trucks today use sturdy metal mechanisms to perform the same function. A truck's strong chassis supports the parts used to transport merchandise and freight.
Drayage services are the transport of standard metal shipping containers. They service transport from:
Ports and docks
Warehousing storage
Transport to and from trucks, ships, trucks, or trains
These freight containers are packed with a wide range of products by freight shippers.
Why Do We Need Pier Drayage Services?
Today's supply chains require reliable pier drayage services. This middleman process is vital for moving cargo between storage and distribution centers, and vice versa.
If you do not have adequate drayage services, it may result in higher shipping charges or the loss of 'shelf life' goods in transit.
No matter what kind of business you run, drayage provides an essential link in your supply chain. This allows your goods to travel short distances, via trucking companies, to their appropriate locations. The use of pier Drayage services can help in the following situations:
You must move your products from one location to another within the same city
You must transport your international shipping container from the warehouse storage to the port
You have to collect your shipping container from a port and transport it to your warehouse storage
All in all, drayage services allow for more consistent and faster shipping of your goods. A single transition is usually sufficient to transfer the whole container or finalize the drayage process. Drayage, which connects companies to customers, can provide an almost door-to-door service. This ensures that your goods arrive at their destination.
What Are the Benefits of Pier Drayage Services?
Drayage services connect everything, whether the cargo moves from truck to rail or ship to warehousing storage center point. If you're looking for a short-distance runner, experts always recommend drayage. We set out below some of the benefits of using drayage services.
Reduce Costs
One advantage of drayage is that it is reasonably priced. Because of the heavy price of air freight and shipping container rentals, the options to drayage can be extremely costly. Trucks are an important and cost-effective mode of transportation, particularly in the United States. This is because the US already has a well-developed road network. Using drayage to transport your merchandise over short distances can save you both money and time.
Improve Productivity
When you use another logistics company in conjunction with a high-quality warehousing company, you improve the productivity and efficiency of your supply chain.
Your merchandise will be monitored and tracked by trained professional individuals. These individuals have the expertise to move your products. They will also make sure the process runs smoothly without you having to be there in person. Using quality logistics services with drayage service increases accuracy and improves your business.
Ensuring Your Goods Are Secure
When you hire a drayage company to move your goods, your cargo will be handled by specially trained and experienced individuals. Pier drayage companies know how to operate within particular rules and standards to ensure full security. They can also keep up with changes to government safety rules and regulations governing cargo transport. As a result, you won't have to worry about major mistakes like loss or damage to your goods.
Increased Efficiency
If every company that uses logistics services had an on-site presence at shipping ports, the terminals would be clogged. Also, shipments would be delayed for an extended period of time.
Drayage services transport both empty and full shipping containers. They transport them to the proper places in order to keep things running smoothly and avoid clogging the works, and delays on site. This ensures that business is not slowed and that available space is used effectively. Cross-docking is the process of immediately unloading goods from one mode of transport to another. This allows the goods to continue their journey without being held in storage during transit.
Premium Warehousing and Drayage Services
Pier drayage and warehouse solutions are an essential component of national and global distribution channels, making them essential for profitable businesses. Because this mode of cargo handling is critical to distribution, it is critical to consider how to best integrate them into your business.
Doing so as soon as possible will allow you to reap the benefits and reliability that come with this storage and transportation service.
Are you looking for safe storage of your goods? Then, contact us! We have advanced warehousing solutions which enable you to store your commodities in a convenient location while they await transportation to their destination.