Posted on October 03, 2022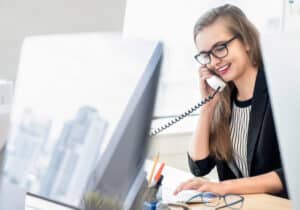 When it comes to customer relations, there's a common saying to remember if you want to succeed: people remember how you made them feel. By applying this principle, successful business owners are able to attract and keep clients. The same principle also applies when it comes to deciding on a warehouse operation. You'll have to juggle between several important factors in the selection of a logistics partner. Some desirable aspects of dedicated warehouse include strategic location, affordability, and above-average handling methods. However, you'll also want to put a focus on customer service as well.
Dedicated Warehouse Customer Service Reps: Can They Make all the Difference?
There's a need to find a warehouse that balances all of the above factors. Plus, you should also be keen on the quality of the customer relationship management services.  Here's how a dedicated warehouse customer service rep makes all the difference.
1. Can Improve Your Brand Image
There are likely two reasons you outsourced your warehousing services: lack of storage space or the needing to prioritize core competencies. Whatever the case, outsourcing removed you from the warehousing function. Sometimes outsourcing puts you in an awkward position. This is because it can be difficult to explain the services you've outsourced to your clients in detail. Because you're out of the loop, clients may see this as poor customer service. Having a dedicated warehouse customer support representative helps to avoid this perception. The representative will provide informed solutions about the warehousing operations to your clients in a professional manner.
Your representative is also familiar with common issues that arise, which means they can provide solutions faster. And, because your representative is highly experienced in the workings of the warehouse, they will be able to explain complex processes to your clients. This increases trust between you and your clients.
2. Can Increase the Effectiveness of Your Marketing Strategy
Customer service is a powerful tool that can increase the effectiveness of your market strategy. 7 out of 10 clients prefer to purchase from businesses with great customer service. Your clients will be given the best warehousing services when you have a customer representative on your team. This is because representatives are experts in warehouse operation.
If clients want to know details, representatives can easily provide them, which increases trust and professionalism. And, if a client feels that you're trustworthy and competent, they'll pass on the word of their great experience with you. In essence, happy clients will market your business pro bono. They'll recommend your services to their friends and relatives.
Because of this, providing excellent support is one of the most effective ways to expand the influence of your business.
3. It Can Increase Cost-Effectiveness
Hiring support staff from colleges sounds like a genius idea. After all, the staff won't demand much for their salaries, and it will help you trim the wage bill, right? Hold that thought for a moment.
In reality, working with inexperienced personnel actually increases the training costs. This is because rookies lack the skills to handle clients appropriately in every situation. And unfortunately, poor customer service may result in lost clients. This will then decrease your client revenue, which will have you losing money in the end. Losing clients is the biggest loss for any organization. It's very difficult to reverse the situation. A business can recoup its expenses, but it can't recover lost profit from potential clients. Much of this comes down to reputation. Since word-of-mouth marketing is crucial for businesses, you want your reputation to remain stellar. Having competent employees in all areas of your business, including your warehouse representative, ensures this. By hiring expert customer representatives from the start, you can avoid losses and make gains instead. In the end, early investment in experts pays off.
4. Avoid Misunderstandings and Logistics Issues
When you have a well-informed and experienced warehouse rep, there will be less overall confusion between the rep, you, and your clients.
Because clarity and efficiency is valued in quality representatives, less misunderstandings and mistakes will occur. This, of course, means better business for you in the long term. This can also increase all-around production since hangups can slow everything down. If efficiency in communication is poor, your clients may also feel confused and anxious, which isn't great for reputation.
The Importance of Close Working Relationships
When you don't have the space in your own facility or company for product storage and warehousing, finding a third-party logistic service is the key to making your business model work in a functional and efficient way.
While there are several aspects that you should be reviewing when you are looking for a warehousing facility to handle your business needs, there is one component that stands above the rest in importance: Superior customer service. Even though you may assume that a dedicated warehouse customer service rep would fall at the bottom of the list of important aspects to consider on your search, it actually should be at the top for a handful of good reasons.
A Close Working Relationship Is the Key to Success of Warehouse Solutions for Your Business
In any business, close cooperation and open lines of communication are the key to success. This fact is no different when you are talking about your business and your third-party logistics warehouse.
When you have a dedicated customer service representative on your team, you will have a go-to person for every concern you have when it comes to handling your products. A few signs that you are dealing with a customer service rep that will be hands on when it comes to business-to-warehouse communications include:
The Representative is Dependable
The representative is available and responsive when you have questions, concerns, or need advice about your shipments. It is vital to know that you have someone you can reach out to for help and get timely answers when the need arises.
They Understand Your Goals
The customer service rep is understanding of your business needs and has a good grasp of what your goals are. Building a good relationship with a warehouse rep means that they are aware of those goals and as focused on them as you are.
They are Easy to Communicate With
The rep assigned to your company profile is easy to communicate with, cooperative, and personable. This is vital because you want to be able to openly express concerns and get information without feeling like you are just on the phone with another vendor. They should be an extension of your team.
They are Open and Honest
The representative is open and up front about any limitations regarding warehouse flow at any given time. This gives you and clients peace of mind that solutions are around the corner.
A Close Relationship Boosts Everyone's Confidence, Which Equals More Business
When you are confident in your warehouse customer service representatives abilities and experience, you pass on that confidence to your customers.
To put it simply, customers want to feel confident in their investment. And if they are coming to you, you are their investment. A great practice for finding a good warehouse customer service representative is to notice how you feel when you talk to them. Do they make you feel confident? Do they make you feel as though everything is being handled efficiently? All of these feelings will be passed on to your customer. The more confident you and your representative are on the back end, the more confident clients will be in investing in you.
Great Customer Service to You Means Great Customer Service to Your Customers
The bottom line in business is that every business owner needs to make sure their customer is pleased with the end product and service they receive.
When you find a warehouse that has diligent service reps that have an obvious dedication to making sure that you are content with the service you receive, you can rest assured that your customers will be treated the same. The best customer service reps understand that success only comes along with keeping clients and customers happy. Of course, the operations and function of your warehouse are of the highest importance. However, even the best operations can be hampered by poor customer service. With a dedicated customer service rep, you're much more likely to get the results you're looking for.
Finding a Quality Warehouse Customer Service Representative
Experience and openness are the name of the game when it comes to finding a quality rep. At Quality Warehouse and Distribution, we have over 40 years of combined experience in warehousing, export/import logistics, freight transportation, and more.
Contact Quality Warehouse and Distribution today for world-class dedicated warehouse services.
Call 732-476-3151 now to learn more about how Quality Warehouse can help store your goods in New Jersey!