3 Warehousing Vendor Basics You Should Be Reviewing Constantly
Posted on October 12, 2015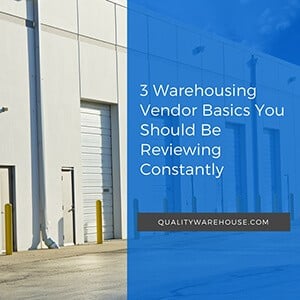 Edison, New Jersey, is just a short drive from the Newark International Airport as well as the Port of New York. It is an ideal spot for warehouses of all kinds. Often, warehouses offer more than just storage but include other services as well. The Port Newark – Elizabeth Marine Terminal is under the authority of the Port Authority of New York and New Jersey and is the busiest port on the East Coast.
Opportunities abound for shippers to save money using warehouse companies that are more sophisticated than simply storing stuff. Among the most sought-after warehouses is Quality Warehouse and Distribution Company. As the warehousing industry evolves, three things you need to monitor on an ongoing basis are,
Cost
Cross Docking
Customer Service
Cost
Warehousing and distribution services have five charges that should constantly be evaluated against the competition. Price should not be the final factor, though, as premium services almost always cost more than "just storage" costs. The five areas are:
Storage Fees
Handling Charges
Order Entry/Administrative Costs
Accessory Charges
Contract Terms and Conditions
Storage Fees
There are two charges for storage. Initial storage fees are charged when a shipment first arrives at the warehouse. The second charges are 'recurring' and is based on the number of units of X you are storing—X being pallets, boxes, or containers.
Although these costs can vary from warehouse to warehouse, checking them often makes sense, especially if the charges rise without you being informed. However, heed the warning, that for quality warehouse and distribution services you might pay a bit more.
Handling Charges
Handling charges vary by shipment. They are calculated based on type of storage (pallet, container, etc.), weight, size, stackability, type of storage (bulk or rack storage), and the number of times your shipment needs to be handled. Comparing this cost before you are charged is almost impossible.
Order Entry and Administrative Costs
These are the costs associated with handling the bill of lading, phone calls, emails, faxes, scans, and general shuffling of paper. Be on the lookout for transaction fees as they can quickly add up to become an expensive item associated with your shipment's warehousing and distribution.
Accessory Charges
These are charged for things such as labeling, unexpected services, and inventory cycle counts. Beware of these charges as this item is often discretionary. They should only be paid if agreed to in advance.
Contract Terms and Conditions
Make no mistake, and do not assume that if the contract says so, that's the way it is. Before you sign a contract, have your commercial business attorney look the contract over and guide your negotiations.
Cross Docking
What if you have a shipment that comes in through Newark but is scheduled to leave from Philadelphia tomorrow?
If you're using a warehouse like Quality Warehouse, there is the opportunity to save money and make your shipment on time. Cross docking is the practice of unloading and loading freight without incurring high if any storage fees for warehousing.
Cross docking is a method that saves your company money and time by reducing the following costs:
Handling costs
Storage costs
Transportation costs
In addition, normal loads can experience shifting during transport. Sometimes this creates a distress load. Make sure your warehouse and distribution vendor keeps up the ability to help with these orders. Examples of distressed orders include:
Truckloads that need emergency re-working because of a load shift or a loading error
Products that are stored on a temporary basis until your client is able to receive it
Missed appointments that require expedited rescheduling
Shipments in need of value-added services such as palletizing or labeling
Trailer or container damage that requires unloading and then loading into a new trailer or container
Customer Service
When businesses succeed, one common factor for their success is customer service. Excellent customer service is one of the most important qualifications for your vendor of warehousing and distribution services. If customer service ever slips, how your vendor handles the issue should determine if you continue with them or search for a new vendor.
Anyone can make a list, but only a few warehousing and distribution companies can make sure that each part of their list is checked off and rated a 5 out of 5.